The Country Village Christmas Show by Cathy Lake: Feast of rural delights with a gentle romance - book review -
After her recent divorce, 45-year-old Clare Green is now homeless, jobless, and clueless about how she will mend her fractured life.
Published 18th Nov 2020, 15:45 BST

- 3 min read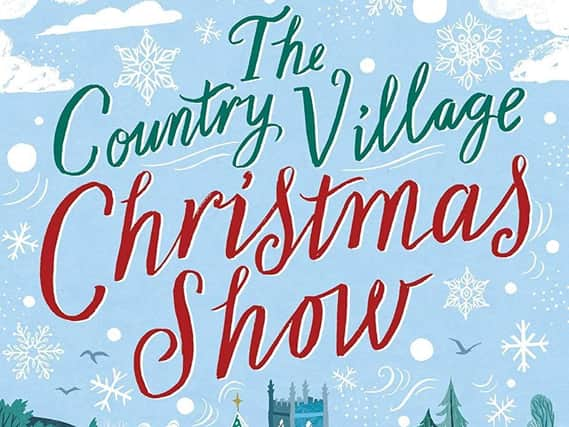 After her recent divorce, 45-year-old Clare Green is now homeless, jobless, and clueless about how she will mend her fractured life.
So as she turns the key for the last time on what has been her marital home for nearly two decades, Clare loads up the car and heads back to her mother's cottage in a Surrey village to discover if the end of one era is going to herald a new beginning.
Light the fire, draw the curtains and settle back for a feelgood feast of rural delights, family secrets, warm friendships, enchanting romance, the community spirit that helps to mend broken hearts… and a giant-sized dog with a personality to match!
Cathy Lake, who is on a mission to write uplifting stories about strong women overcoming seemingly insurmountable obstacles, provides a much-needed injection of hope, humour and Christmas cheer in this beautiful, uplifting tale of a middle-aged woman facing a crossroads in her life.
With her ex-husband Jason off the scene, the family home in Reading sold and her 21-year-old son Kyle all grown-up now and away at university, former assistant librarian Clare is at a crossroads. She has dedicated her whole adult life to her family, and now it's time she did something for herself... but what, and how?
It's the lead-up to Christmas and Clare decides that a bit of time in the countryside might be just what she needs, so she moves back to Little Bramble, the Surrey village where she grew up. But living with her 75-year-old former teacher mum Elaine for the first time in years – and not to mention her dog, Goliath the Great Dane – is going to be challenging.
Elaine has always been fit and active, and a busy member of her local community, particularly the amateur dramatic society, and Clare feels guilty that she hasn't seen much of her mother since her beloved father died ten years ago.
Clare never had a particularly close relationship with her prickly mother and since her father died her mother has seemed tougher, harder and colder as if losing him had 'extinguished the tiny spark of warmth that she was able to demonstrate.' But now her mother seems more vulnerable… is there something she hasn't told Clare?
Soon Clare is learning more about her mother, taking Goliath for walks, meeting handsome local vet Sam Wilson (under the most embarrassing circumstances!), rediscovering a close friendship with school mate Jenny, and agreeing to organise the village's Christmas show.
Suddenly it feels like she has purpose in her life again. Bringing together people from all sides of the community, and all walks of life, will she manage to pull off a festive feat like no other? And will she find the new start in life – and possibly love – that she's been looking for?
Village life in all its rich colour, cosy togetherness and shared endeavour forms the captivating backdrop to a story that shines a light on community, friendship and family without losing sight of some of reality's dark corners and the emotional complexities of relationships.
Each generation has its own particular problems but through understanding, compassion and love, Lake demonstrates that it's never too late to turn a corner, leave the past behind and forge a new and better future.
With a gentle romance to warm the winter cold, a cast of charming characters – not least genial giant Goliath – and a final showdown of showtime dramas and festive frolics, this is perfect escapism for lockdown blues.
(Zaffre, paperback, £7.99)