The Lost Twin By Diana Finley: A celebration of a mother's unbroken love - book review -
When Irish teenager Marie Tully gives birth to twin boys at a home for unmarried mothers in 1970, she is forced to make a terrible choice that will haunt her down the years.
Published 18th Nov 2020, 13:59 BST

- 3 min read
Updated 18th Nov 2020, 14:23 BST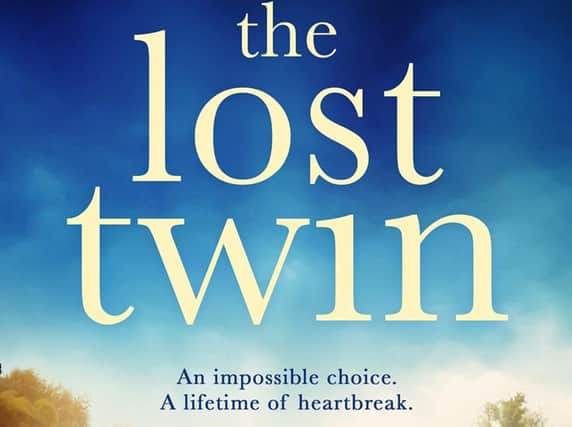 When Irish teenager Marie Tully gives birth to twin boys at a home for unmarried mothers in 1970, she is forced to make a terrible choice that will haunt her down the years.
Can she ever recover from a heartbreaking decision that is destined to change forever the lives of both herself and her two sons?
There are powerful emotions aplenty in this gripping story which explores the corrosive consequences of family secrets, and age-old questions about nature and nurture, as a young mother struggles to repair wrongs in the past.
The Lost Twin comes from the pen of Diana Finley who worked in the NHS for many years as a Specialist in Autism before taking a change of direction and returning to her early love of writing.
And armed with the insight gained from her experiences of working with children with mental disabilities, and a natural gift for writing novels full of psychological suspense, she tugs on our heartstrings and plays with our expectations in this tale of loss, hardship, hope and mother love.
With a warning from her mother that she will never be able to return home again, 17-year-old Marie Tully leaves Ireland and travels to London to give birth at St Agatha's, a mother and baby home run by Catholic nuns.
Marie is determined that she will keep her baby rather than have it adopted but when she gives birth to twins, whom she names Barry and Donal, she is persuaded by the nuns to make the impossible choice of keeping one boy and letting the other go for adoption.
Penniless and alone, Marie agrees reluctantly to let Donal be adopted by a wealthy couple and she keeps Barry, knowing that it will be a struggle to support him and that it's a decision that she will regret for the rest of her life.
Against the odds, Marie finds a bedsit to live in and a warm friendship with the owner of a local bakery, and the unexpected bonus of a live-in housekeeper job with its own flat at the home of the kindly widow Erna Goldstein.
Over the years, Marie raises her son Barry and gives him a good life but her love for Barry can't wipe out the love and longing for his lost twin which 'eats away' at her soul every day and every night.
And Barry's behaviour is a constant worry… he knows subconsciously there is something missing in his life and he is filled with 'a terrible anger' that he doesn't understand and expresses against his mother.
Marie can never bring herself to tell him that somewhere out there he has a twin brother but secrets can't stay buried forever. And when Barry learns the truth, it threatens to tear mother and son apart. Will the family ever be reunited, and can the scars of a lifetime ever truly heal?
Using a narrative that alternates between Marie and her two sons, Finley allows readers to understand the psychological impact of that early separation on all three members of the family, and to observe the boys' troubled behaviour patterns that develop over the years.
As Barry and Donal grow up, their lives are damaged by not just their separation at birth but also by the stigmas surrounding illegitimacy and single parenthood, and the trauma that comes from deceit and rejection.
But there are three victims in this sensitively imagined and anguished tale… Marie's life is also blighted by the cruelty of that enforced choice when she was little more than a child herself. It is a choice that clouds her happiness and 'consumes' her more and more through the years of separation from the child she knows as Donal.
With a cast of beautifully drawn and authentic characters, some unexpected twists and turns, and dilemmas to break even the hardest of hearts, The Lost Twin remains a celebration of a mother's unbroken love, empowering friendships, and ultimately, a tale of of reconciliation and hope.