The Shelf By Helly Acton: A funny, feminist and wonderfully original tale of self-discovery - book review-
When Amy Wright's boyfriend promised her a surprise getaway, she was sure he was planning to pop the question and that she would finally be 'off the shelf.'
Published 7th Jul 2020, 15:45 BST

- 3 min read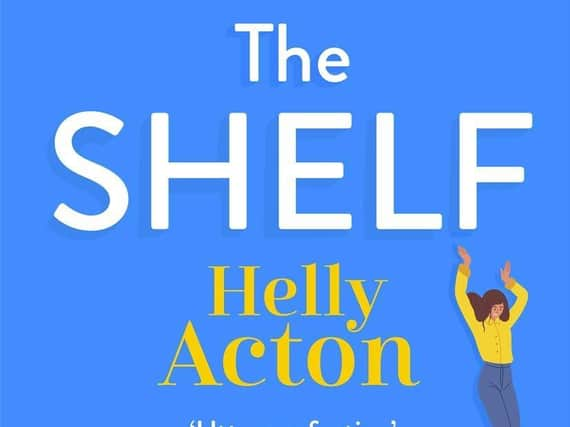 When Amy Wright's boyfriend promised her a surprise getaway, she was sure he was planning to pop the question and that she would finally be 'off the shelf.'
What she could never have imagined in her wildest dreams was that he would instead whisk her away to a television studio and brutally dump her in front of a live Big Brother-style reality show audience. Is it just the start of a terrible ordeal for Amy, or the dawn of a new age of defiance?
If you're ready for a slice of exhilarating entertainment to ease the darkness of a year of crisis then feast your reading eyes on this funny, feminist and wonderfully original tale of self-discovery from a fresh new voice in women's fiction.
Copywriter Helly Acton, who reveals she threw herself into the world of online dating after 'one life-affirming break-up,' used her experience as a single woman in her early thirties – torn between settling down and savouring her independence – as her inspiration for this wicked and wonderful tale of our times.
Obsession, the dangers of self-absorption, the all-too-often malign pressures of social media to conform to perceived norms, and the imperative for women to fight discrimination and decide their own fates, all come under the keen eye of this impressive debut author in a story set against The Shelf, an excruciatingly awful reality TV show featuring a series of bizarre and humiliating tests, devised by men whose brand of chauvinism dates back to the dinosaurs.
Amy is convinced that today is going to be the best day of her life. She has a sneaky feeling that her boyfriend of two years, Jamie O'Connor, who has been unusually quiet and nervous recently, is going to propose on their forthcoming mystery holiday.
Jamie could never truthfully be described as her ideal man but under pressure from her yummy mummy social media pals – and fed up with the daily updates on their perfect babies and details of their 'dribble, snot and tears' – he might just be her best bet to avoid being left on the shelf.
And it all starts promisingly well when a stretch limo arrives at the door to take them on the first leg of a journey which Amy hopes will be a sun-soaked island in South East Asia. But when she steps out of the car, wearing a blindfold provided by Jamie, Amy finds herself in front of a bank of cameras and lights on the live studio set of brand new reality show The Shelf.
'Hello Amy. You've been left on the shelf' is her nightmare greeting because, along with five other women, Amy is being brutally dumped on set and must compete in a series of outrageous and obnoxious sexist tasks over the course of a month in the hope of being crowned 'The Keeper.'
She could walk out but, seduced by the thought of the one million pound prize money and what she could do with it, Amy steels herself to stay on The Shelf. And as she gets to know the other housemates – a mixed bunch of women equally keen to use the competition in the hope of furthering their own secret ambitions – Amy realises that The Shelf might just deliver an even bigger prize than a big cash windfall...
Readers who fear (or maybe hope!) that The Shelf is merely the vehicle for a full-on brutal attack against rampant misogyny may be surprised by this perfectly-pitched and darkly satirical story which successfully champions a woman's right to self-determination through toe-curling farce and witty one-liners without overplaying the card, or sinking into a predictable, thinly-veiled anti-male diatribe.
The caricatures of the type of men whom women love to hate are the props here… the ooh, aren't-they-awful backdrop to a story which is essentially about women and the power of female friendships, how they can work together to be recognised and respected, follow their own stars, and who learn to stop trying to 'find the right person' and instead try to 'be the right person.'
But most of all, this is a story that aims to entertain as well as empower… the feisty, funny and hilariously earthy cast of house mates reflect both age and diversity, each with their own tale of unreal expectations by their partners, and each growing increasingly ready to challenge and subvert male perceptions of the 'perfect' woman.
Acton's own experiences have enabled her to instil genuine insight and veracity into the rich portrayal of each of her characters, but it is also her empathy, humour and natural effervescence that make reading this debut such a refreshing and enjoyable experience.
(Zaffre, hardback, £12.99)