Hundreds of new Wigan businesses launched amid Covid-19 challenges
Statistics from the BBC Shared Data Unit showed there were 620 new companies registered in the borough between April and June.
Published 7th Aug 2020, 07:00 BST

- 3 min read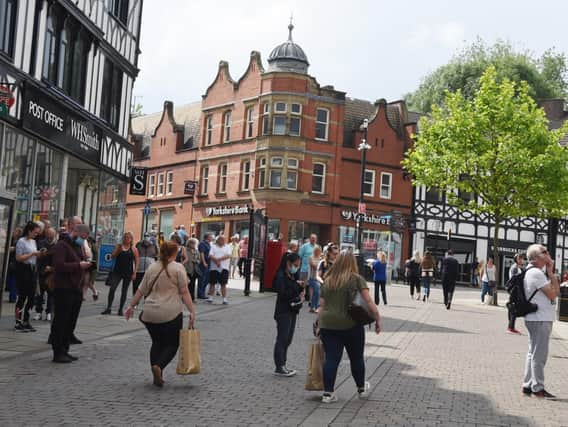 The data also shows that in some ways the feared economic meltdown from the coronavirus has yet to materialise in the borough, with 10 Wigan companies filing for insolvency since March.
However, experts suggest the economy is far from out of the woods yet, with Government support including loans, top-up grants and the furlough scheme preventing many businesses going to the wall.
The borough has seen one of the North West's biggest rises in companies going into liquidation in percentage terms compared to last year, when there were two, but the small numbers of businesses involved caution against drawing wide-reaching conclusions.
Indeed, in absolute numbers only 17 of the 39 North West local authorities have seen fewer notices for insolvency than Wigan and Manchester has had more than 100, a figure some 10 times higher than the borough's total.
While insolvencies are down on the totals recorded this time last year, the crucial test will be once the special Covid-19 financial measures are withdrawn and firms have to survive an autumn and winter with social distancing and other requirements still in place and a return to normal life some way off.
Experts suggest ingenuity and flexibility will be required to see the UK economy thrive, with the emergence of around 180,000 newly-registered companies during lockdown seen as a positive sign.
Wigan Council, too, said the number of new firms was heartening as the town hall recognised it was unlikely the post-Covid economy in the borough would look the same as the one from before the pandemic.
Chloe Taylor, assistant director skills and enterprise, said: "As outlined in our Covid-19 recovery strategy, one of our key priorities now is growing and supporting a sustainable local economy.
"The way we all do things has changed in light of the pandemic, whether that's increased shopping online or people wanting to visit their local high street rather than a city centre, and we now need to evolve too, and look at these habits and how we can best support our businesses moving forward.
"It's great to see hundreds of new businesses start up, we really need people to keep supporting their local businesses and high streets to ensure they survive the next few months which will no doubt be challenging."
HM Treasury says it has so far provided around £160bn in support for businesses.
Another reason for the low numbers of insolvencies could be legal changes, with creditors unable to apply for winding-up orders on firms whose debts are due to Covid-19 until September and courts being unable to handle insolvency cases during the pandemic.
However, in separate research Begbies Traynor said 527,000 firms were in serious financial distress at the end of June and the true impact of this would only be seen in the months to come.
Stuart Adam, an economist with the Institute of Fiscal Studies, said: "Some firms may continue to have their activity constrained by social distancing for a considerable period.
"Others may face weaker demand if the recession leads people to spend less, or if the broader crisis changes how we choose to live and spend our money.
"There will also be new business opportunities, created both by changes in consumer demand and by the various government support schemes. Since many firms will undoubtedly shrink or go out of business and jobs will be lost - especially as the furlough scheme comes to an end - it will be vital over the coming months and years for others to start up or expand, to fill the gap and employ those left out of work."
Nationwide the biggest growth in new firms during lockdown has been in internet and mail order retail companies, with 11,882 registered between April and June.
Budding entrepreneurs have also been setting up management consultancies, firms letting or operating real estate and service activities in large numbers.
Overall insolvency notices were down by around 25 per cent on the same period in 2019.
Information and communication is the worst-affected sector and education has also seen a slight rise.
However, sectors anecdotally hard hit by Covid-19, including accommodation and food services, arts and recreation, retail and construction have all seen insolvencies drop.
The data on insolvencies comes from the London Gazette.