Much-loved Wigan pub prepares to reopen its doors
A Wigan pub long feared consigned to the history books is ready to ride back into business on the crest of a post-lockdown wave.
Published 2nd Jul 2020, 07:00 BST

- 2 min read
Updated 2nd Jul 2020, 14:36 BST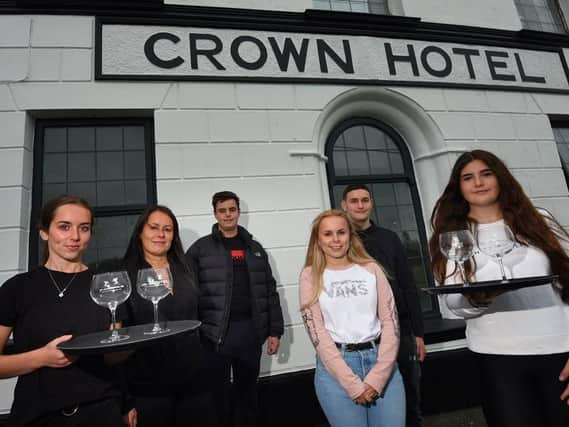 The final touches of a £250,000 refurbishment were this week being put to The Crown at Worthington before it opens its doors at noon on Saturday along with countless other restaurants and watering holes around the country as Covid-19 restrictions are eased further by the Government.
And this won't be a gentle easing back into the local food and drink scene for landlord Andrew McKenna with 80 covers booked for meals on the first day alone and his Sunday lunch menu going live the following day.
That weekend will complete a remarkable turnaround in the fortunes of a once highly popular pub which suddenly closed in 2016 and was soon afterwards under threat of being razed for a residential development.
But a Save the Crown campaign was launched with the support of the Standish Voice neighbourhood forum and it successfully fought of the housing application and continued to market it as a hospitality venue.
The building is now in the ownership of Publican Ltd and Andrew has signed a seven-year lease to run the place. He, his wife Nic, their four children and husky dog Silver have now taken up residence in the premises as work is completed on its transformation.
The original plan was to open at least part of the pub in April, but lockdown meant that more of the project could be completed before returning and new customers get a first peek.
Andrew, a 40-year-old businessman who also owns four travel agencies, said: "It's a bit weird. I would not say that the lockdown has worked in our favour but it has given us more time to plan ahead.
"We have also received terrific support from the people of the Worthington and Standish areas and we look forward to welcoming them back to this iconic place after a four-year wait.
"We've stripped the place back and spent £250,000 completely refurbishing it.
"We are of course mindful of all the restrictions which will have to be in place and the provision of sanitisers. There will be table service and people won't be able to order at the bar or stand around drinking inside as was the old norm. But we have a lot of places, the restaurant is already spacious and we are considering using the back room - which was designated as a games room - as another temporary eating or drinking area.
"We still aim to be dog-friendly and people will be able to have a meal with their dogs beside them in the pub, although not the restaurant. It might pay to ring ahead even if only coming for drinks though because we don't want to be turning people away."
Andrew is bringing over a chef from Italy who will produce Italian food, including pizzas, but there will also be traditional British pub favourites on the menu.