Wigan town centre protest as Debenhams redundancies spark fury
Staff and their supporters placed banners outside the Grand Arcade Shopping Centre which houses Wigan's branch of the department store on Monday lunchtime.
Published 16th Sep 2020, 07:00 BST

- 2 min read
Updated 16th Sep 2020, 09:16 BST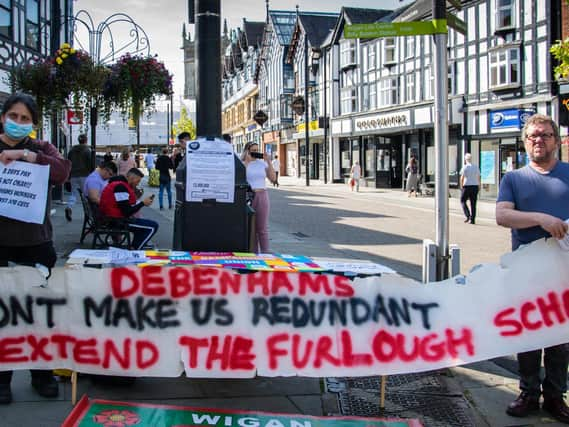 The iconic High Street business has cut thousands of posts over the months of lockdown and the Covid-19 pandemic.
But the retail giant's handling of the redundancies has generated a furious backlash from trade unions and employees affected, with bosses being accused of underhand tactics and not following the correct procedures.
Weekly protests have been held outside the Manchester store since thousands of jobs nationwide were lost in August and now the campaign has spread to Wigan, with Debenhams staff being supported by Wigan Trades Council.
One of the biggest sources of anger, protestors say, is a three-day blanket notice period for staff who were made redundant.
The Wigan demonstration also called for the Government's furlough scheme to be extended.
Usdaw trade union rep Laila Hasan said: "Debenhams has done nothing above board. The unfair treatment of staff is part of the reason why they are so angry and want to protest.
"They are supposed to go through a consultation process but didn't do any of that.
"They are also making people redundant in a pandemic when people are really worried and stress and anxiety levels are high because we are worried about our friends and family.
"We were sent a text message about a conference call and managers read out a script and told people their jobs had gone. We were given three days' pay then finished. Our notice period is supposed to be related to how long we have worked there.
"Employers making job cuts at the moment is a serious problem and there needs to be a fightback against it or we could see millions of people being made unemployed, which will have a devastating effect on their lives."
Ms Hasan said employees laid off had recently been further outraged by Debenhams rehiring some staff on short-term contracts and by the firm seeking to fill Christmas roles when people who have worked there for years do not have a job.
Usdaw is calling on the retail giant to enter into meaningful negotiations with it about the future of its workforce.
Last month the department store announced it was cutting some 2,500 jobs across its stores and warehouses in a bid to slash costs.
Ms Hasan is calling for workers in sectors facing job losses due to Covid-19 such as retail to be offered other roles or reskilling options.