Former Wigan borough football scout gets all clear after radiotherapy trial
A former football scout from Wigan borough is cancer-free and has avoided surgery for rectal cancer thanks to a clinical trial.
Watch more of our videos on Shots! 
and live on Freeview channel 276
Visit Shots! now
Tom Critchley, 76, a retired contracts manager, who also served in the territorial army for 18 years before working as a football scout for Manchester United for 20 years, as well as eight years at Bolton Wanderers, was referred from Wigan Infirmary to The Christie having been diagnosed with early stage rectal cancer, a type of bowel cancer, in April 2022 and was immediately offered the opportunity to go on a clinical trial funded by Yorkshire Cancer Research called APHRODITE.
This trial is investigating whether a higher dose of radiotherapy increases the likelihood of successfully treating the rectal cancer and avoiding the need for surgery.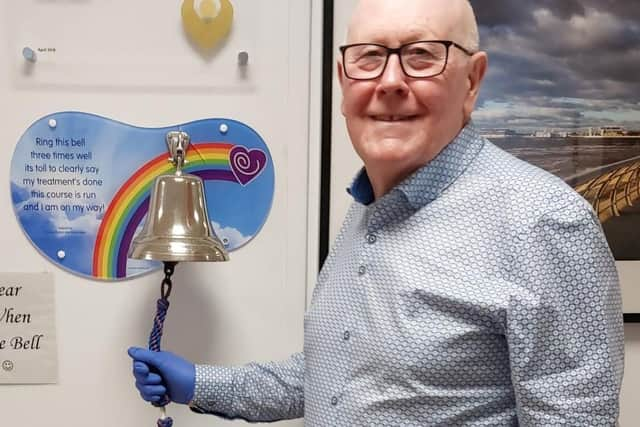 Tom, a grandfather of three, underwent 28 days of radiotherapy alongside a daily chemotherapy tablet, taken twice a day.
By February this year Tom was given the all-clear.
Dr Claire Arthur, consultant oncologist at The Christie, said: "A standard dose of radiotherapy given over five and a half weeks can lead to cancer disappearing in about a third of patients diagnosed with a small, early rectal cancer.
"The aim of the trial is to discover if a higher dose of radiotherapy given over the same length of time results in a better response, avoids surgery and sometimes, a stoma bag, and improves quality of life for the patient.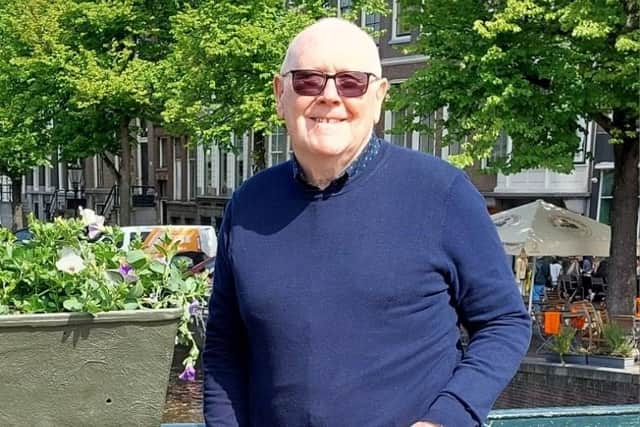 "Modern radiotherapy techniques enable a patient to be given a higher dose to the tumour while reducing the amount the normal tissue receives, therefore, reducing the initial and long-term side effects.
"Tom responded well to the radiotherapy and has no significant long-term side effects.
"He's now been clear of cancer for eight months which is great news. Tom will continue to be closely monitored."
Tom, who is also a talented singer and has performed in pubs and clubs over the years, said: "I was lucky to catch the cancer early before it spread.
"As soon as I spotted some blood I went straight to the doctor.
"It was a massive shock to be diagnosed with cancer as I've always been fit and healthy.
"My late wife died of pancreatic cancer very suddenly and I've also lost my mother, aunts and two siblings to cancer so I'm very keen to do anything I can to assist with research to improve treatments.
"When I was offered the option of going on the APHRODITE trial I knew it could benefit others, even if it didn't help me, so I didn't hesitate to sign up."
The trial is led by Prof Simon Gollins (The Shrewsbury and Telford Hospital NHS Trust) and Dr Ane Appelt (University of Leeds and Leeds Teaching Hospitals NHS Trust). Dr Appelt has been supported by a fellowship from Yorkshire Cancer Research.
"The APHRODITE trial will help us to develop better and kinder treatments for patients with rectal cancer.
"We know that some patients can be cured for their rectal cancer using radiotherapy and chemotherapy alone, avoiding the need for surgery and a stoma.
"With modern high-tech radiotherapy techniques, we are able to deliver a much higher dose of radiotherapy to the cancer - but we need the APHRODITE trial to determine if that will also lead to more patients being cured of their cancer.
"We are completely dependent on people like Tom to find better treatments for future cancer patients."
Sarah Brown, Professor of Cancer Clinical Trials Methodology at the University of Leeds, and Methodological Lead for the APHRODITE trial, said: "This is such an important trial for patients with rectal cancer.
"We are trying to determine whether we can improve outcomes for patients by giving higher doses of radiotherapy, but we need to make sure this does not cause too many side effects and impact patients' quality of life.
"The APHRODITE trial will provide us with valuable information to answer these questions.
"Recruitment is expected to be complete late summer 2024, and we should start to see results shortly following that."
The APHRODITE trial is still recruiting patients. In total more than 100 patients will be recruited from 10 sites across the UK.
When patients are referred to The Christie to discuss their cancer treatment, details regarding potential clinical trials they may be suitable for will be discussed.
Together, the patient and clinical team will decide whether it is appropriate to proceed with a trial or not. More information about taking part in clinical trials can be found here.