Grieving widow's horror as phone with precious info 'stolen' from dying husband's Wigan Infirmary bedside
A grieving widow has made a formal complaint after her husband's phone went missing as he died in a ward at Wigan Infirmary.
Published 10th Mar 2023, 04:55 BST

- 2 min read
Updated 10th Mar 2023, 17:51 BST
Julie Lawrence, from Abram, said the phone contained precious memories and vital information which she needed to "go forward with closure."
Her husband Roy, 62, was admitted to hospital last month with an infected diabetic ulcer, which proved fatal.
In an emotional social media post, Julie said: "To whoever it was that took my husband's phone as he died in Winstanley ward in Wigan. Every phone number, every business contact, every bit of information I need now is on that phone. You have no conscience and no humanity."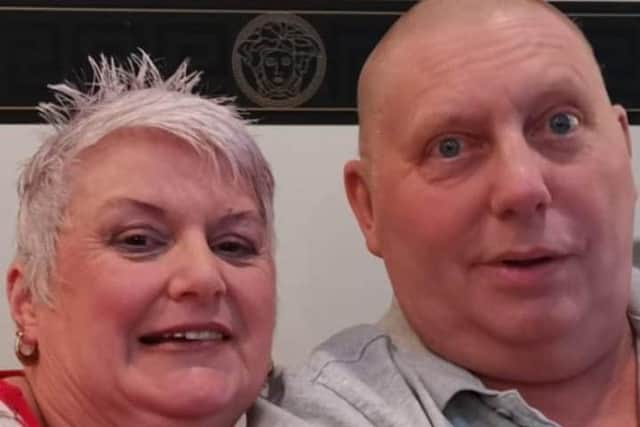 Julie, 62, reported the incident to Greater Manchester Police. Officers took witness statements but it appears the investigation is closed pending further information coming to light. There was no CCTV footage available.
Julie, from Abram, said: "My husband had been talking and acting very confused but with lucid episodes. On Saturday evening he used his phone to call me to ask for clothes as he was intent on coming home, but when I explained that he was too poorly he didn't really understand but accepted it.
"I was told by the staff that he deteriorated quite quickly during the night and they tried to get him through it but they couldn't do anything to help.
"When I went in to collect his belongings later that day, his phone was missing. The ward sister took all the details of the phone. It would have had a full charge, various people were phoning it and it was going to voicemail. It could have been stolen, or it's just possible one of the staff had moved it somewhere. It didn't have a tracker on it.
"If it had been stolen, they'd have taken the SIM card out, but it was still ringing until the batteries ran out and there was no charge."
She added: "All his life was on his phone - personal and business and photos. It was never out of his hand. Every bit of information I need to go forward with closure is on that phone."
Julie has now also made a formal complaint to Wrightington Wigan and Leigh NHS Foundation Trust (WWL) about the missing phone, a Samsung Galaxy A53. She is also in regular with the hospital's Winstanley ward, where her late husband was being treated, to see if the phone has been located.
A WWL spokesperson said: "We are sorry to learn that Mrs Lawrence and her family have experienced this and we want to support.
"It is of the utmost importance to everyone at Wrightington, Wigan and Leigh Teaching Hospitals NHS Foundation Trust that our patients feel safe and secure when in our care.
"We would encourage Mrs Lawrence to contact our Patient Advice and Liaison Service so that we can support and investigate this sensitive matter thoroughly."
GMP confirmed that it had received a report that a mobile phone had been stolen on Wigan Lane, Wigan, on February 27.