'Inspirational' Wigan man who battled mental illness nominated for top award
A Wigan man who has used his own mental health struggles to help other people has been shortlisted for a prestigious award.
Watch more of our videos on Shots! 
and live on Freeview channel 276
Visit Shots! now
Kieran Jones, from Bamfurlong, is in the running for a gong at the Mental Health Awards.
He has been named in the Inspirational Story category, which recognises service users or clients who have overcome overwhelming challenges to tackle their mental health or well-being, or those whose lives have been affected by the mental health of others.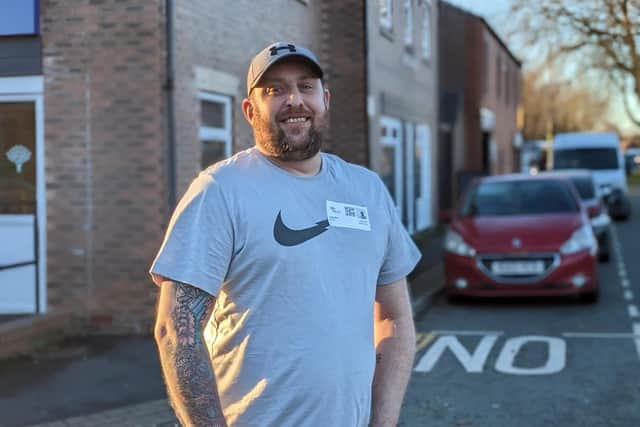 Kieran struggled with mental illness just a few years ago, becoming so unwell that he attempted to take his own life.
But he now helps other people through his work as a peer mentor co-ordinator for Greater Manchester Mental Health NHS Foundation Trust (GMMH) – the same trust which treated him.
Kieran suffered with post-traumatic stress disorder, depression, anxiety and addiction, and was admitted to Atherleigh Park mental health inpatient unit in Leigh in February 2020.
He said: "A number of years ago, I went through a traumatic experience which left me with severe, complex post-traumatic stress disorder (PTSD). I had flashbacks and nightmares, which really affected me. I also suffered from depression, anxiety and addiction.
"This caused me to lock myself away – I didn't come out of my house for a long time, I wasn't sleeping and I struggled with day-to-day tasks. This peaked when I made a suicide attempt and I knew I needed help."
Kieran received support from GMMH's Wigan and Leigh service, both as an inpatient and in the community.
He said: "I could learn about my mental health, find out about useful coping mechanisms and start to get better.
"When I was discharged, they gave me lots of useful advice, from how to improve my sleep pattern to how to have a healthier diet. These simple self-care tips really helped me to feel better and to learn to love myself."
Kieran started working with GMMH when he was asked to co-chair the design group for the Wigan and Leigh Living Well Service and he now works for the service as a peer mentor co-ordinator.
He said: "In December 2022, I started my role as peer mentor co-ordinator and my first priority is to recruit a team of peer mentors.
"From personal experience, I know how hard it can be to reach out for support. If I had had a peer mentor all those years ago when I was struggling – someone who had been in my position, someone who I could trust – this would have had a huge impact
"Our peer mentors will be providing person-centred support – it's not just about mental health, it's about helping people to be part of a community."
So far there are plans in place for seven full-time peer mentors and 15 volunteers.
Winners of the Mental Health Awards will be announced during a ceremony on Thursday, November 2 at the Dickens Inn in London.
It is not the first time Kieran has been recognised for his efforts to help other people.
He was also named Community Hero at the 2021 Our Town Awards organised by Wigan Council.