Mum says she 'lost her son twice' after horror road smash left him with traumatic brain injury
The mum of a Latics fan who died 16 years after suffering catastrophic brain injuries in a road smash said it felt like she had lost her son twice.
Watch more of our videos on Shots! 
and live on Freeview channel 276
Visit Shots! now
Anthony Ramsdale was described as a "happy go lucky Jack the Lad" and fanatical Wigan Athletic fan until his life changed for ever a month before his 23rd birthday.
He was out with friends when he was struck and thrown over the bonnet of a VW Polo in Swinley on the evening of April 15, 2007.
Anthony suffered massive brain injuries following the collision, which left him needing round-the-clock care.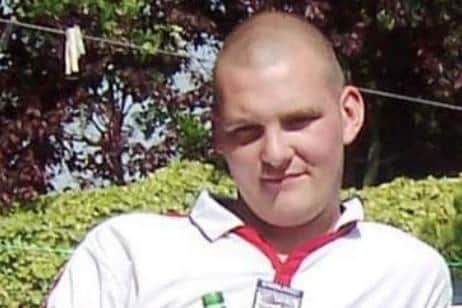 He lived for another 16 years under the devoted care of his parents Sheila and Bernard, with the help of health professionals, but sadly earlier this year he fell seriously ill with sepsis and died at Royal Bolton Hospital on June 11, aged 39.
An inquest into Anthony's death at Bolton coroners' court heard that he was a former labourer who up until his accident was a physically fit, hard-working individual who once carried a double-bay glazed window up a ladder on his shoulders.
His mum Sheila said: "He had a heart of gold and family was everything to him," while dad Bernard added "he was sensitive even though he was a big lad and looked tough on the outside.
"He was a big brother to his younger brother, sister and a foster brother."
Anthony's parents described how their lives changed forever when they were awoken by a late-night phone call from one of Anthony's friends, saying their son had been involved in a bad accident and been taken to Wigan Infirmary's A&E department.
The impact of the collision left Anthony with a traumatic brain injury, which required lengthy surgical treatment by a number of specialist health teams including those based at the Walton Neurological Centre in Liverpool.
After a number of years he was allowed to move back in with his parents to a specially-adapted bungalow in Whelley, which they bought with the help of an out-of-court settlement after his accident.
Anthony was left in what was described as a "low awareness state" with a range of complex medical needs, including a chronically dysfunctional bladder.
Sheila said: "He needed total care from waking to sleeping. He was dependent on carers to meet all his care needs
"We got him out as much as possible to give him as much quality of life as possible, including to Wigan Athletic football matches as he was life-long Latics fan and season ticket holder. Even if he could only engage for a couple of minutes, it was better than nothing."
The inquest heard that Anthony was admitted to hospital suffering from urosepsis in March this year, for which he underwent emergency surgery but continued to deteriorate and was admitted into intensive care.
He was then in and out of hospital with recurring urinary tract infections and blockages but died in June.
The medical cause of death was given as urosepsis arising from kidney stones, and traumatic brain injury.
The coroner Mike Pemberton gave a narrative conclusion, saying Anthony had died as a consequence of complications arising from necessary care and medical treatment following a road traffic accident. He suffered urosepsis, and as a result of severe debilitating health conditions succumbed to the infection.
He told Anthony's parents, who were both present at the hearing: "This has been an extremely traumatic period for you and your family. Anthony was a very loved son, and even after you lost him as you knew him in 2007, he never lost your love, your commitment and your care."
Speaking after the inquest, his mum Sheila said: "It's like I've lost two Anthonys. We grieved 16 years for the first Anthony, who changed from a happy-go-lucky Jack the Lad to being someone severely disabled, and now we're grieving for both the Anthonys with his death.
"It's just been a massive blow which has affected every one of us."