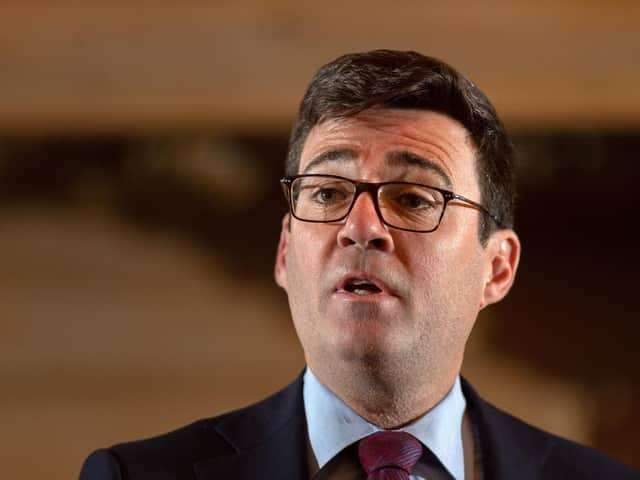 Andy Burnham
The current crisis is expected to add pressure to mental health services, as staff both support people already accessing care and deal with new cases caused by people's sense of loneliness and isolation, as well as the impact it will have on staffing levels.
Greater Manchester's mayor Andy Burnham and Sir Richard Leese, chairman of the Greater Manchester Health and Social Care Partnership, have now announced an agreement for a new city region response on mental health to complement work already happening at a local level.
Digital services and online support have been launched across Greater Manchester to minimise the need for people to attend GP surgeries or hospital.
These services can be accessed by people who are already experiencing mental health issues, as well as those who may be struggling with the new social distancing and self-isolation restrictions.
This could be people who live on their own and do not have family or friends nearby to check on them and are experiencing loneliness and depression. There will also be people suffering from low mood, stress and anxiety due to the limitations on their social interactions and normal day-to-day activities.
New support includes the launch of the SHOUT service – a confidential 24/7 text service for people aged 16 and over, operated by trained crisis volunteers who will chat using text responses.
Advice is available for anyone struggling with issues including: anxiety, depression, suicidal thoughts, abuse or assault, self-harm, bullying or relationship issues. The service is overseen by clinical supervisors.
Other services will include:
ChatHealth – a secure and confidential text messaging service for children and young people, which allows patients to easily and anonymously get in touch with a healthcare professional for advice and support. This will be launched soon.
Kooth – an online counselling and emotional well-being platform for children and young people. Currently limited to Bolton, Manchester, Oldham, Rochdale, Trafford and Wigan and will be extended to Bury, Salford, Stockport and Tameside by May.
BlueIce – an evidence-based app to help young people manage their emotions and reduce urges to self-harm. This app is available from a clinician working in CAMHS (child and adolescent mental health services).
SilverCloud – an online therapy programme for people aged 16 and over proven to help with stress, anxiety, low mood and depression, which launches tomorrow.
Work is being done with Health Innovation Manchester to identify extra digital services that could support specific vulnerable patient groups, including looked-after children and care leavers, those with special education needs and people with eating disorders.
The Greater Manchester Bereavement Service will be available by the end of the month to provide callers with an opportunity to talk about their loss. They will be made aware of services that are available to help them, bereavement support and practical support for any issues they may be facing.
NHS staff will be supported through the Greater Manchester Resilience Hub, set up in response to the Manchester Arena attack in 2017, which will provide support and consultation to those teams and organisations who are supporting frontline key workers during the Covid-19 crisis.
Mr Burnham said: "This is a difficult time for everyone at the moment, but we will all get through it together. It's important to look after your own health and well-being and take time to look out for the mental health of others.
"I'm conscious that lots of people need support to look after their mental health and as we enter weeks four, five, six and beyond of this coronavirus crisis and the limitations placed on our day-to-day lives, it's going to become even more difficult for some people.
"We need to act together to combat social isolation and find ways for people to connect or interact. I would encourage everyone to keep in touch with their friends, families and neighbours via phone or video calls and to get in touch with any of the support services available.
"I also want to pass on my gratitude to the hard-working staff and volunteers who have been working around the clock to develop the range of digital mental health services to help people who need it. It's great to see so many people rise to the challenge to do what they can to support others."
Sir Richard Leese added: "Covid-19, and the national measures being announced to delay the spread of the epidemic, will inevitably have a significant impact on both demand for and capacity to deliver support for people with mental health needs, a learning disability or autism.
"Lots of great work is being undertaken across the 10 boroughs, helping some of our most vulnerable. For example, the Spirit of Salford helpline, contact centre and digital platform was launched within 72 hours and has already had over 1,000 people get in touch. They are working to address people's mental health and well-being and feelings of social isolation.
"Our overarching priority is to support mental health services to run as effectively as possible, ensuring that those seeking and needing mental health support and treatment receive this care. All mental health providers in Greater Manchester are trying to ensure as much continuity of care as possible.
For further information on Greater Manchester level mental health resources that are available, visit hub.gmhsc.org.uk/mental-health/covid-19-mental-health-and-wellbeing-resources/ and hub.gmhsc.org.uk/mental-health/digital-mental-health-resources/
A message from the Editorial Director, Gillian Parkinson:
Thank you for reading this story on our website.
But I also have an urgent plea to make of you.
In order for us to continue to provide high quality local news on this free-to-read site and in print, please purchase a copy of our newspaper as well.
With the coronavirus lockdown having a major impact on our town centres and many of our valued advertisers - and consequently the advertising that we receive - we are more reliant than ever on you buying a copy when you pop out for your essential shop or subscribing for delivery.
Our journalists are highly trained by the National Council for the Training of Journalists (NCTJ) and our content is independently regulated by IPSO to some of the most rigorous standards anywhere in the world. Our content is universally trusted - as all independent research proves.
As Baroness Barran said in a House of Lords debate this week on the importance of journalists: "Not only are they a trusted source of facts, but they will have a role to play in rallying communities and getting the message across about how we can keep ourselves and our families safe, and protect our NHS. Undoubtedly, they have a critical role."
But being your eyes and ears comes at a price. So we need your support more than ever to buy our newspapers during this crisis. In return we will continue to forensically cover the local news - not only the impact of the virus but all the positive and uplifting news happening in these dark days.
We thank all our readers and advertisers for their understanding and support - and we wish YOU all the best in the coming weeks. Keep safe, and follow the Government advice. Thank you.
You can subscribe for delivery by contacting us at [email protected] or calling us on 0330 4033004 for details of a participating newsagent near you.