New support programme for Wigan hospital patients with tobacco addictions
The new Cure project team was formally introduced at the Medical Education Centre at Wrightington, Wigan and Leigh (WWL) Teaching Hospitals NHS Foundation Trust.
Published 22nd Sep 2020, 17:03 BST

- 2 min read
Updated 22nd Sep 2020, 17:14 BST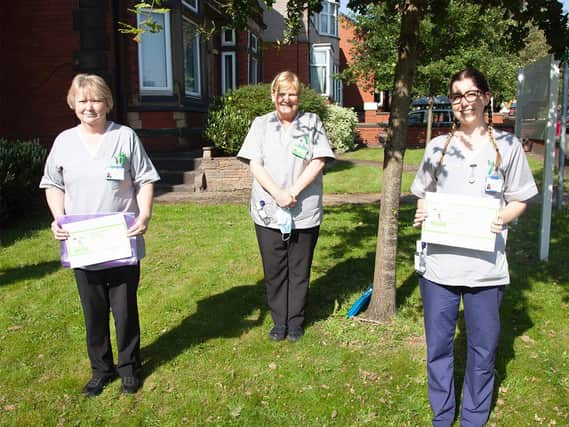 Acute hospitals see a comparatively large number of smokers due to the illnesses caused by heavy tobacco use.
This means they are also well placed to provide treatment and support for patients to kick their nicotine habits.
This is a key focus for the NHS and a major ambition in the health service's 10-year plan.
Greater Manchester Health and Social Care Partnership's contribution to this is the Making Smoking History project, which aims to reduce smoking rates in the city-region by a third to 13 per cent by the end of 2021 and then to five per cent by 2027.
And the Cure programme at WWL has been devised in support of it.
Any adult admitted to Wigan Infirmary who is identified as a smoker will be referred to the Cure team.
They will receive support and advice on managing their addiction and will be offered nicotine replacement therapy as well as other medications to manage their cravings during their hospital stay.
They will also be signposted to ongoing treatment and support once they leave hospital.
Additionally, the three-strong Cure team will provide training and support for staff across the Trust.
Clinical smoking cessation practitioner Sophie Connor said: "We're a small team with a lot to offer, aiming to make big differences to our patients by helping to change behaviours.
"Since we've been in post we're seeing between 60 and 70 patients and around a 40 per cent take up on permanently giving up smoking."
Silas Nicholls, WWL chief executive said: "The NHS should treat smoking as an addiction rather than a lifestyle choice and if we can save lives with this programme that is just fantastic."
The Cure project focuses on providing medical solutions to tobacco addiction and the provision of intensive support for smokers to change their behaviour.
It was initially piloted at Wythenshawe Hospital in 2018 and initial results were hailed as a success as the scheme led to just over one in five smokers admitted to hospital staying away from tobacco three months later.
The Trust said quitting smoking is the single most important thing someone can do to improve overall mental health and wellbeing in the long run.