Wigan care worker's eyesight saved at 11th hour
A Wigan NHS support care worker is back on the frontline after receiving emergency care and advice from a town centre opticians which helped to save his sight.
Published 27th Apr 2020, 09:58 BST

- 2 min read
Updated 27th Apr 2020, 11:27 BST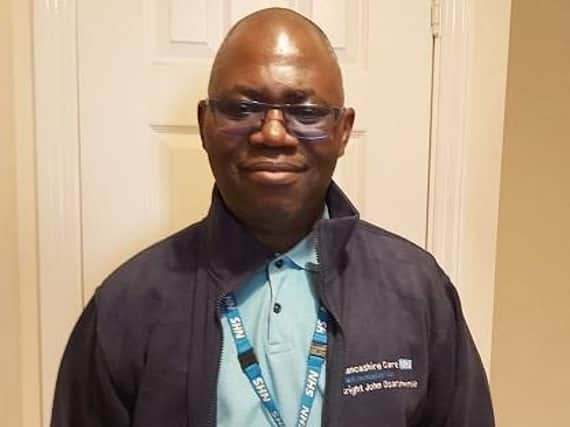 Bright Osarumwense, 49 from Wigan, works for Lancashire Care NHS Foundation Trust as a mental health specialist and had to stop his vital work due to pain and blurry vision in his left eye.
He rang his GP who suggested he contact Specsavers in Wigan for an urgent examination. Specsavers' teams are classed as key workers to provide urgent and essential eye care to those who need it. This includes supporting other key workers who couldn't function without their help and people who would come to harm without their health expertise, especially where the usual hospital services and NHS facilities are being prioritised for the fight against COVID-19.
Ophthalmic director Tim Gardner examined Mr Osarumwense at once and found that his left cornea appeared cloudy due to extreme levels of pressure in his eye. If left untreated, this pressure can mount further causing damage to the optic nerve and even blindness.
Mr Osarumwense was urgently referred to Boston House, the town's specialist eye unit, who confirmed Mr Gardner's diagnosis of acute glaucoma. With the help of medication and drops to relieve the pressure in his eye, Bright was able to return to work within days with no pain and his eyesight intact.
He said: "I thought the pain and blurred vision I was experiencing was just down to the long night shifts I'd been working, but when it persisted, I called my GP to get some advice.
"I was surprised to be referred to Specsavers as I hadn't realised they would still be open, but I'm so glad they were as they saw me straightaway and were able to book me in at the hospital unit for treatment. The service I received from Tim and his colleagues was excellent and helped me recover quickly.
"Work is extremely busy at the moment – a lot of vulnerable people need help in the current climate – so I can't afford to have any time off. Thanks to the speedy response of the Specsavers team that hasn't been necessary."
Specsavers' essential and urgent care service also includes supporting vulnerable people isolating at home with glasses, contact lens and hearing aid deliveries in addition to providing optical and audiology services from the store.
Mr Gardner said Mr Osarumwense was lucky to have escaped further damage to his eye: "If he hadn't been seen within a day or so the pressure in his eye could have caused significant damage. In his important role within the NHS, we wanted to ensure he was referred urgently once we diagnosed the acute glaucoma so that he could carry on with his vital work.
"We're so grateful to the key workers like Mr Osarumwense in our town who are risking their health every day at work in tough conditions to protect us all. It's a privilege to play a small role in ensuring they receive the help they need to carry on with their amazing work."