Wigan Trades Council backs striking nurses: 'They deserve the support of every one of us'
Wigan Trades Council has given its backing to nurses taking strike action for the second day.
Watch more of our videos on Shots! 
and live on Freeview channel 276
Visit Shots! now
Further strike action is planned for February 6 and 7 in a dispute with the Government over pay.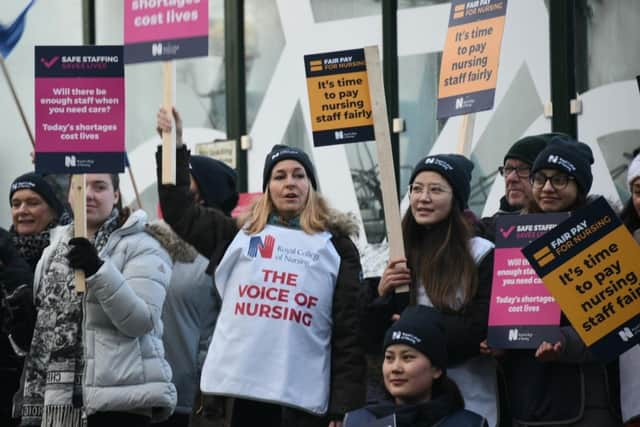 A Wigan Trades Council spokesman said: "It doesn't seem so long ago that the Government was encouraging us to clap hospital staff, praise their efforts during the pandemic. And not a week goes by when a succession of ministers tell us how much money they are spending to prop up the NHS, a service they have allowed to begin collapsing before our very eyes.
"Now those that have dedicated their work to healing have decided to stand up and fight, and they deserve the support of every one of us. This struggle is about defending the NHS, defending those that work in it and ensuring future generations can enjoy a health service free at the point of delivery.
"We know the Tories despise what they call the 'nanny state', we know they want us all to give money to their friends in the private insurance companies to cover our health. We know that at heart they have never thought much about public services in general; it's as clear as day what they are about and we can't let them get away with it."
A nurse identified only as Tina said: "Coming out today has not been easy. Deciding to withhold my labour is a decision I never thought I would have to make. However, unfortunately as a nurse I am at breaking point. Ten years of below-inflation pay has resulted in myself a qualified nurse being 20 per cent down in real terms pay.
"Unfair pay has led to a chronic staff shortage, resulting in 83 per cent of nursing shifts being understaffed. Working understaffed has a massive toll on nurses physically, mentally and emotionally. After a shift my whole body physically hurts and I am mentally and emotionally drained. I find on my days off I am exhausted, which has an impact on my home and family life.
"Many nurses have left the profession. At times I question if I should also leave too. I only stay as I believe in the NHS and what it stands for, and I have the knowledge and skills to help people. However, as a nurse it is heartbreaking to come into work and give everything you have, but it is just not enough.
"I am striking today to be a voice for my patients to stand up for their right to better care. Better pay equates to better staffing levels and better care, it's that simple."
Joining nurses on the picket line outside Wigan Infirmary was cancer patient Malcolm Jones.
He said: "I am very angry when this Government blames nurses for putting patients at risk for going on strike. It is the Government that don't care, with their years of austerity and with many Tories linked to private health care.
"It is the nurses that are fighting to save the NHS and saving my life and the lives of others every day. Give them the pay rise they deserve.