Take the high road north all the way to Dumfries!
Many's the time while visiting Scotland we've driven past the turn off for Dumfries on our way further north.
Published 27th Feb 2023, 10:39 BST

- 3 min read
It's a town with links to our family - given my wife's dad spent most of his formative years at school there - although we'd never visited ourselves.
So just before Christmas, we thought it was time to right that wrong, and spend a couple of days at the Cairndale Hotel & Leisure Club.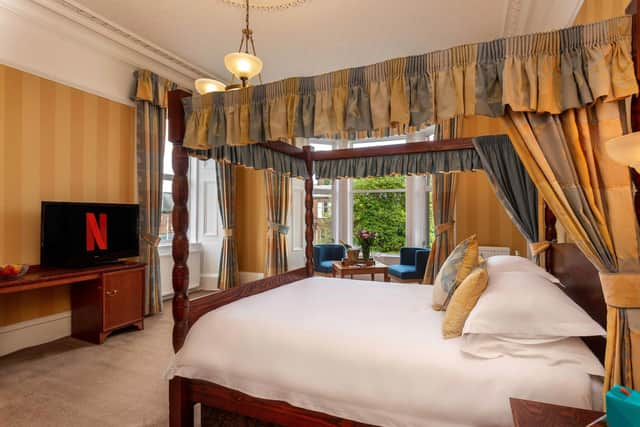 And we were soon wondering why we hadn't made the trip years ago!
Our base for the weekend promised to be 'a family-friendly hotel that brings the best of Dumfries to your doorstep'.
The 24-hour front desk did exactly what it said on the tin, and was available for our every beck and call, whether it be to book a table in the restaurant or serve up some milk for our junior travelling companion.
There's plenty going on in the market town of Dumfries if you want to get out and about.
Located near the mouth of the River Nith into the Solway Firth around half an hour from the English border, Dumfries is the county town of the historic county of Dumfriesshire.
Robert Burns House (0.3 mi), Hetland Garden Centre (0.6 mi), Dumfries Museum (0.5 mi), Queensberry Monument (0.3 mi) and St Michael's and South Parish Church (0.4 mi) are all within easy walking distance of the hotel.
But our stay was always going to fall in the 'relaxation' category, with almost all of our time being spent on the premises.
With room amenities including a flat screen TV and free wifi, there was plenty of reason not to venture out.
But when we needed to stretch our legs, the rest of the hotel was warm and very welcoming.
The sweeping spiral staircase next to reception made for a real 'wow' factor.
And the presence of a 14-metre swimming pool, spa, sauna and jacuzzi gave us something else to look forward to - as well as burn off some of the calories we were sure to add during our stay.
The complimentary breakfast was fresh and filling, and served up by friendly staff in a lovely environment.
Our stay there coincided with the World Cup, although our attempts to watch the England-USA game were thwarted by a lack of a big screen on site.
"Why, is there a game on?" remarked a clearly proud Scottish member of staff, with a mischievous glint in their eye.
With the game being shown on terrestrial TV, it meant a return to the room for 90 minutes, which only served to whet the appetite further for an evening meal that was infinitely more enjoyable than the 0-0 snoozefest from Qatar.
On the second night we were there, the hotel played host to a Beatles tribute night in the property's large function room.
More than 100 people were treated to a three-course Christmas dinner menu as well as two-and-a-half hours of songs from the Fab Four (well, tremendous two...Ringo and George didn't make the cut).
The way the staff effortlessly served food and drinks to the dozens of tables while increasingly merry punters sang and danced around them was testament to their skills and professionalism under pressure.
And it was far from a one-off, with special entertainment packages a feature of the hotel's plan to spread their wings.
For information on future events, call the hotel on 01387 254111 or email [email protected]