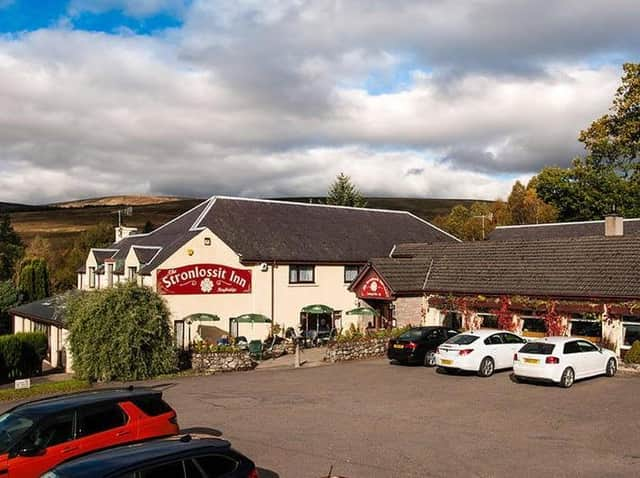 The Stronlossit Inn
Shooting directly up from sea level, Ben Nevis is indeed an awesome sight.
Then again there's a "wow" moment around almost every corner in these parts of Scotland, and also plenty of physical challenges for the adventurous visitor.
And after a tough day's cycling, kayaking, hiking or, in winter, perhaps skiing, what you really need is a cosy retreat.
Well, we certainly found it in the Stronlossit Inn.
A distinctive hotel that has been in the Vallely family for generations, it prides itself - as the guest-welcoming literature puts it - on a "subtle blend of gentle elegance, excellent standards of service and a delightful, informal, timeless and relaxing atmosphere."
I think by the end of our stay it was safe to conclude that the the establishment hadn't been overstating its credentials.
Our initial test of the claims was the first night's evening meal.
We were handed a quite simple-looking menu, but we are savvy enough to know that long, fussy bills of fare don't always mean superior food and that straightforward ones with a modest selection of dishes often don't shortchange you either.
The other half's starter was highly tasty haggis bonbons with dressed leaves while an unctuous peppercorn sauce, not at all harsh and overbearing, was the perfect accompaniment. It seemed to be particularly popular with fellow diners too.
I opened with a Great Glen charcuterie venison with Isle of Mull Cheddar shavings and various other sweet and pickly ingredients, none of which was out of place.
The quality was excellent in all we had and there was no stinting on the quantities either.
My main was an Aberdeen Angus burger with cheese and bacon.
The missus had the same meat but hers came as part of a wonderfully rich beef and ale pie.
Neither of us could fault either platter - unless you count as a problem the fact that they were so filling they didn't leave us room for dessert.
Our room, and especially the en suite, looked new minted while the furniture and decor were to a high quality.
The inn has a pleasant garden with pond
The living space was, shall we say, quite on the compact side, but catered for every need.
The bed, while a basic double in size, was very comfortable.
I should mention also that considering that some of the biggest mountains in the UK were right on our doorstop, the technology functioned surprisingly well and there was a good selection of TV channels, which is often not the case in many a hotel we have visited.
The ground floor room, by the way, gave out onto a large and pleasant garden with a pond populated by dozens of friendly ducks.
Our breakfasts were to a very high standard: no transatlantic interlopers in the full Scottish, like beans and hashbrowns, and each component was ideally cooked.
I had to try porridge while I was up there too and it was divine. Not overfacing but setting you up for a busy day.
And there was indeed a full programme to cram into that single day, regardless of a few rainy spells.
Within easy driving distance of the Stronlossit is the double whammy of the Bonnie Prince Charlie monument at the head of the spectacular Loch Shiel and, just across the road, the Glenfinnan viaduct, best known for its featuring in the Harry Potter films (although I didn't spot any Dementors swirling around in the mists).
It also proved worth a toddle around the shops in Fort William; a tour of the Ben Nevis distillery; a stroll up and down Neptune's Staircase (the UK's biggest flight of locks on the Caledonian Canal); and a visit to Old Inverlochy Castle, followed by a trip halfway up Ben Nevis on a gondola.
Phew! After all that it was good to be back at the hotel, knowing we would get a good re-fuel.
This time I tried creamy wild garlic mushrooms with granary bread and dressed leaves which was a lovely, rich opener. Mrs G, who had skipped starters, chose a main of pan-fried seabass with Mediterranean vegetables, roasted potatoes and chorizo, while I plumped for that restaurant staple of fish, chips and peas.
Both were delicious and comforting on a cold, dark evening in their very different ways (haddock is always a cut above cod, I find).
This time we managed to find a little space for a chocolate and clementine torte which proved a fitting end to another stupendous meal, again competitively priced.
The staff at the Stronlossit Inn were all scrupulously attentive to our needs, very polite and friendly, and perfectly aware of the anti-coronavirus restrictions.
In all then, we had an extremely enjoyable stay and wouldn't hesitate to return.
Address: Stronlossit Hotel, Roy Bridge,, Inverness-shire, Roy Bridge PH31 4AG
Bed and breakfast from £99 per room. Special offer until April 30 of two nights' dinner, bed and breakfast £119 per person, or three nights DBB £159 pp (not valid December 24 to January 3)