Borough's bid to host 2021 RL World Cup
The borough has launched a major bid to play host to the Rugby League World Cup when the tournament hits England in 2021.
Published 27th Jul 2018, 15:19 BST

- 2 min read
Updated 27th Jul 2018, 16:22 BST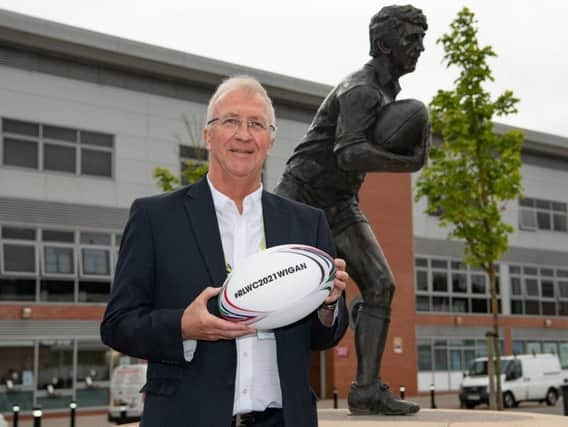 Wigan Council's leader Councillor David Molyneux has unveiled the bid stating the pedigree of the borough for rugby league is "unrivalled across the world".
As part of the bid the borough will also have the opportunity to tap into legacy funding to improve sporting facilities.
Rugby League's global showpiece in three years' time is set to be the biggest competition ever for the sport.
There are understood to be more than 40 venues being put forward to the Rugby Football League to host the international matches across the country.
Wigan is bidding to host the men's tournament which could mean as many as four matches being played in the borough.
Councillor Molyneux said that Wigan borough's passion for the sport and expertise in hosting high profile matches put the area in a very strong position.
He said: "The very names of Wigan and Leigh are synonymous with rugby league globally.
"We have two great stadiums and our passion, expertise and history in the game is unrivalled across the world.
"I simply could not imagine a Rugby League World Cup taking place in England without Wigan borough being involved.
"The success of our hosting the same event in 2013 proves that we can deliver global events which are successful for the participants, visitors and residents.
"That is why we are launching our bid for the borough to be one of the hosts in 2021 and I know that the 320,000 people in the borough will back this bid.
"Not only will hosting the World Cup games be fantastic occasions for our residents to be involved in they will also attract visitors from across the country and the world to Wigan and will be prove a big boost for our local economy.
"The World Cup will also offer opportunities for significant legacy investment for our communities.
"We relish the prospect of being a host and will put the strongest bid possible forward."
The bid is being backed by Wigan Warriors, Leigh Centurions, Leigh Sports Village and Inspiring healthy lifestyles and community rugby league clubs and community groups will be involved in both supporting the bid and, if successful, the event itself.
Wigan is one of a number of councils across Greater Manchester submitting a bid to host matches and be part of the spectacle.
Bids have to be submitted to the Rugby Football League by the end of July.
It is estimated more than one million people will attend the games over the five weeks the tournament runs.
A social media campaign to encourage people to back the bid has been launched with people urged to show their support using the hashtag #rlwc2021wigan