Man caught dredging Wigan park's fountain for charity coins
A Wigan dad has spoken of his shock and disgust after finding a man scooping up charity coins out of Mesnes Park's fountain.
Published 6th May 2020, 07:00 BST

- 3 min read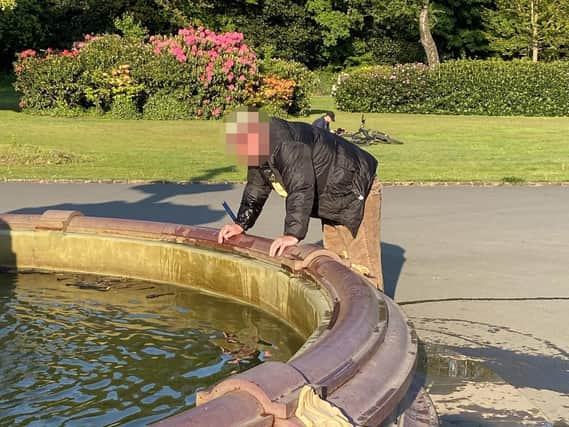 Mark Baxter confronted the stranger who was raking up the cash using a broom then submerging his arm up to the shoulder to grab it and stuff it into his pockets.
The thief grudgingly threw a few of the coins back in but made off with the bulk of his spoils.
And after the Scholes 56-year-old spoke about the incident on social media, he was told that this wasn't the first time the man had been seen snatching money from a feature which locals use as a wishing well.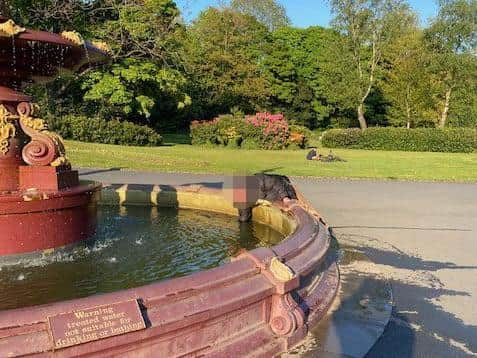 Mark was having a kick-about with 14-year-old son Joe at around 7pm on Monday when he saw suspicious behaviour.
He said: "The guy had a broom which he was using to scrape along the bottom of the fountain. My lad asked 'is he cleaning it?' and I guess at first people might think that that was what he was doing. But not at that time of night.
"And he then put his arm in the water having piled up the coins with the brush, picked them up and stuffed them into his bulging pockets.
"I went over and asked him what he thought he was doing and he told me to 'get stuffed.' But I went right up to him and said 'that's people's money for charity and when they make a wish. If you're that desperate then go to the Mercure hotel where they help people.'
"He said 'I only got a couple of coins" and threw a token few back in the water and then walked off towards Mesnes Park Terrace but he took the bulk of the money.
"I was shocked. It's like those people who steal charity boxes. This is money for good causes and coins that people have thrown in there for good luck. They don't expect some bloke to come along and trouser it all.
"I commented about it on social media and someone said that this man has done it before. It's disgusting."
He is described as white, in his 60s, with grey hair, scaly skin and of generally scruffy appearance, wearing a beige hat, black jacket and brown corduroy trousers.
A council spokesman said it was normal that when the levels of coins reached a certain amount, keepers would collect them, clean them and then donate them to causes such as the Mayor's charity or the Friends of Mesnes Park.
Anyone with information is asked to ring police on 101 or Crimestoppers on 0800 555111.
A message from the Editorial Director, Gillian Parkinson:
Thank you for reading this story on our website.
But I also have an urgent plea to make of you.
In order for us to continue to provide high quality local news on this free-to-read site and in print, please purchase a copy of our newspaper as well.
With the coronavirus lockdown having a major impact on our town centres and many of our valued advertisers - and consequently the advertising that we receive - we are more reliant than ever on you buying a copy when you pop out for your essential shop or subscribing for delivery.
Our journalists are highly trained by the National Council for the Training of Journalists (NCTJ) and our content is independently regulated by IPSO to some of the most rigorous standards anywhere in the world. Our content is universally trusted - as all independent research proves.
As Baroness Barran said in a House of Lords debate this week on the importance of journalists: "Not only are they a trusted source of facts, but they will have a role to play in rallying communities and getting the message across about how we can keep ourselves and our families safe, and protect our NHS. Undoubtedly, they have a critical role."
But being your eyes and ears comes at a price. So we need your support more than ever to buy our newspapers during this crisis. In return we will continue to forensically cover the local news - not only the impact of the virus but all the positive and uplifting news happening in these dark days.
We thank all our readers and advertisers for their understanding and support - and we wish YOU all the best in the coming weeks. Keep safe, and follow the Government advice. Thank you.
HOW TO SUBSCRIBE: You can subscribe for delivery by contacting us at [email protected] or calling us on 0330 4033004 for details of a participating newsagent near you.