Wigan borough football club forced to axe matches after idiot quad biker wrecks pitch
One selfish quad biker has managed to wreck the football schedules for hundreds of players by churning up their pitch.
Watch more of our videos on Shots! 
and live on Freeview channel 276
Visit Shots! now
The four-wheeler was deliberately driven onto the East Leigh AFC ground at Dootson's Park, Leigh, causing a great deal of damage to the soft earth, forcing the cancellation of last weekend's matches and no-one knows for sure when they can resume.
East Leigh has 650 members from age five up to seniors and all have been negatively affected by the vandalism.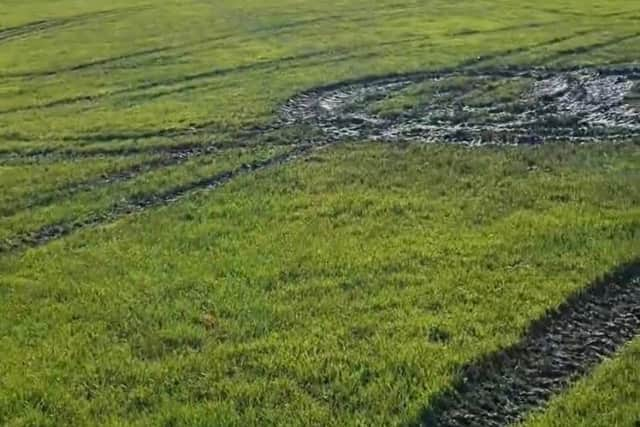 And it is, sadly, only the latest distressing episode for club bosses who have invested £70,000 in pitch improvements over the last year.
Their other pitch at Hesketh Meadow has also suffered by people setting fire to wheeli bins there and churning up the ground riding horses.
Locals think they know who the Dootson's Park culprit is: a man notorious for recklessly riding a quad bike around Leigh, often with one or two now banned American bully dogs off the leash, one of which attacked a horse at Pennington Flash on October 16, causing its young female ride to fall and injure herself. The owner also faced a £500 vet bill for the wounded horse's treatment.
East Leigh chairman James Ridyard said: "It is very sad and frustrating that one or two people can cause so much damage and distress for so many.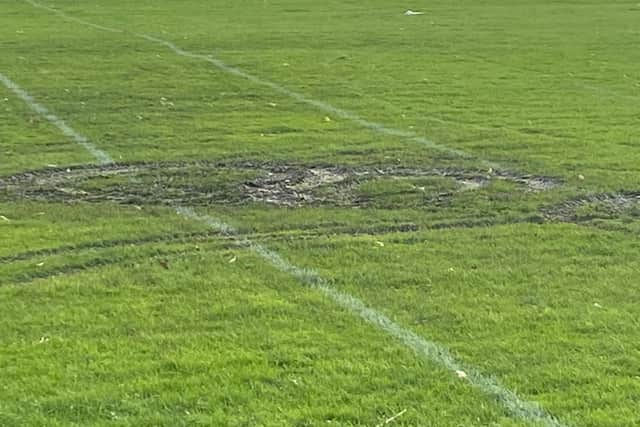 "We have already had to postpone games because of the bad weather and we would have played six games last weekend at Dootson's Park had it not been for the damage caused.
"The ruts were just too deep. We considered a roller but the ground is too soft and I don't know when it will be playable again.
"It was like that with horses being ridden across our Hesketh Meadow pitch. We can't risk players' ankles on the uneven ground.
"I don't know whether it's blind ignorance or sheer spite leading to this.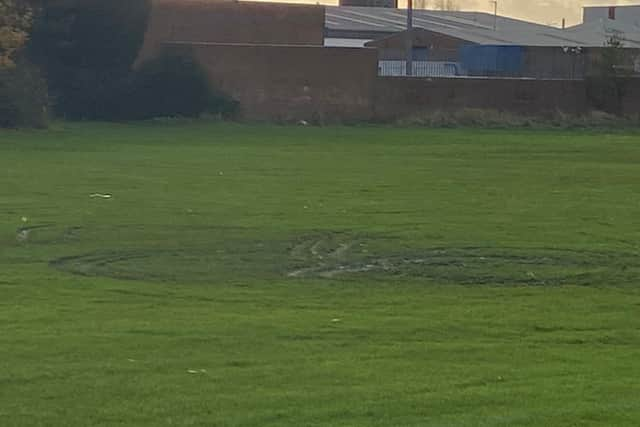 "My main worry is that some of the children might lost interest if they can't play. These games are something to look forward to and bring people together. We've already seen some disheartened because of bad weather cancellations."
Resident Gill Edwards says she is certain who is responsible.
She said: "He rides around on his quad bike with two XL American bullies off the leash and sometimes with a small child on the front.
"I came across him on the afternoon of November 6 as I was walking along the canal towpath between Butt's Bridge and Mather Lane. A young family were there too and we heard this noise and saw the quad coming towards us with an XL bully in tow. The family pressed themselves up against the fence and I went close to the water's edge to let them pass then wondered whether I was going to have to escape that do by jumping in the water.
"The quad flew straight past so he wasn't going to help us and fortunately the dog only looked and then carried on."
Ms Edwards said that Dootson's Park has faced other problems too, including ongoing issues of drug-dealing there.
The council had to clear up after Bonfire Night because of a huge amount of litter, including large spent display fireworks, had been left there and a wheelie bin was set alight in the play area, melting the rubbery flooring.
Greater Manchester Police have been contacted for a comment.