Trust finally pledges to plug Wigan canal leak that has swamped footpath for years
Four years of complaining about a flooded Wigan footpath is finally heading towards a solution.
Watch more of our videos on Shots! 
and live on Freeview channel 276
Visit Shots! now
Access to the Leeds and Liverpool Canal towpath from the bottom of Seven Stars Road close to Wigan Pier has been impossible to all but those wearing waders due to the walkway being swamped with stagnant water.
Nearby garage owner Brian King has been urging the Canal and River Trust to get to the bottom of the problem since before the pandemic but until now has made little progress.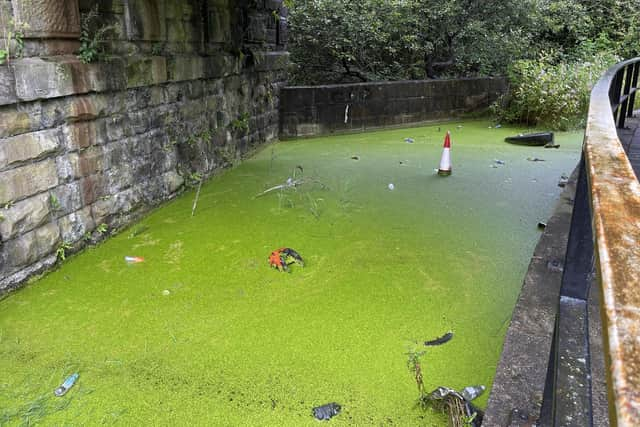 The trust had first denied that the water had come from the adjacent canal, suggesting that it was the landowner's responsibility.
But after Wigan Today brought up the matter and an inspection team was sent down to the site, it was finally admitted that the waterway had indeed sprung a leak.
The trust has now promised to carry out repairs, albeit with the caveat "when time and resources allow."
Mr King noticed the problem with the path a number of years ago.
He said: "You used to be able to get onto the towpath from the bottom of Seven Stars Road. People with prams and mobility scooters and cycles used to exit the canal here until it got so deep we shut the gate so no one would attempt going through and getting hurt.
"I complained to the Canal and River Trust and while they said they had sent people down there, the situation didn't get any better. Moreover it looks horrible and is filled up with litter too.
"In fact the only time the path became usable was when that section of canal was drained for maintenance. That was clearly no coincidence."
A spokesperson for Canal and River Trust, the charity that looks after the Leeds and Liverpool Canal, said: "We are grateful this issue has been brought to our attention.
"Our team has carried out an investigation of the site, identifying a leak in the canal wall which is enabling a small of water to seep through. We will clear up the area as and when time and resources allow.
"Each year, our list of repairs gets longer, more complex and costly, as more work is needed to strengthen the resilience of our 250-year-old canal infrastructure.
"Meanwhile, our charity's funding is reducing significantly in real terms as a result of a reduction in our existing annual Government grant.
"This is piling further pressure on the resources available to look after the network in the longer term, risking a return to a cycle of decline and neglect. Please support our #KeepCanalsAlive campaign by writing to your MP, see www.canalrivertrust.org.uk for details."
As far as who owns the land in question, that remains unknown.
A spokesperson for Wigan Council said: "tAll that we know is this is not in Wigan Council's ownership.
"Unfortunately, the path has also not been registered at HM Land Registry so it is not possible to identify the land owner from Land Registry records."
The trust has not been able to give a rough idea as to when the leak will be plugged.