Weather warning in place as rain batters Lancashire
A yellow weather warning is in place for today (Saturday) and tomorrow with heavy rain, showers and isolated thunderstorms expected to cause some flooding and transport disruption in some areas.
Published 21st Aug 2021, 10:45 GMT

- 1 min read
Updated 21st Aug 2021, 10:49 GMT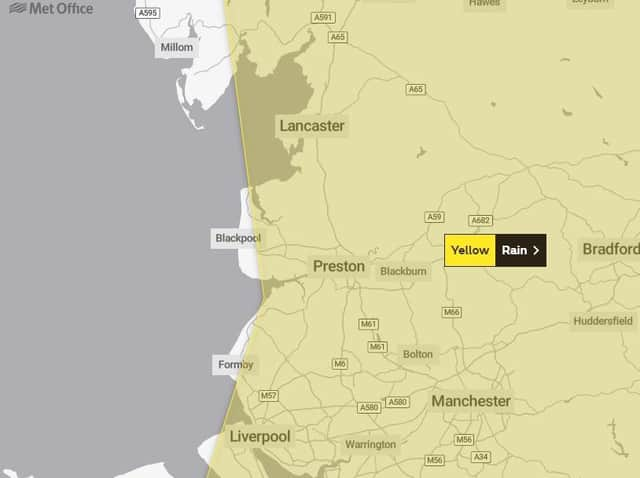 There is a good chance driving conditions will be affected by spray, standing water and/or hail, leading to longer journey times by car and bus.
Delays to train services are possible.
Flooding of a few homes and businesses could occur.
Some short term loss of power and other services is possible, with possible damage due to lightning strikes, in a few places.
Met office advice states if the road is flooded, turn around and find another route. The number one cause of death during flooding is driving through flood water, so the safest advice is turn around.
The public are advised to stay away from swollen rivers and not to walk or drive through flood water. Although the water may seem shallow, just 12 inches (30cm) of moving water can float your car, potentially taking it to deeper water from which you may need rescuing.
Flood water also contains hidden hazards which can damage your car, and just an egg-cupful of water sucked into your car's engine will lead to severe damage.
Remember to give vulnerable road users including cyclists, motorcyclists and pedestrians more room than usual. They are more likely to be blown around by side winds – always keep a safe distance.