Jury retires at inquest into death of Wigan dad and his friend in car crash after police pursuit
The jury has now retired to consider its conclusion following an inquest into the deaths of two men who were killed following a police chase.
Published 31st Jan 2023, 17:04 BST

- 2 min read
Updated 31st Jan 2023, 17:12 BST
Patrick Connors, known as Paddy, and Thomas Sharp, known as Tommy, both died when the Mercedes in which they were travelling crashed while they were being pursued by police in an unmarked car.
Over the course of the inquest, which is now in its second week, evidence was heard from family members and eyewitnesses to the incident, along with members of the emergency services.
This included two officers who were in the police vehicle chasing the Mercedes C200 being driven by Mr Sharp through Lower Broughton in Salford on the evening of Wednesday, September 23, 2020. Mr Connors, from Golborne, was in the front passenger seat.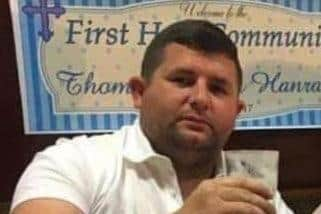 In his summing up to the jury today, Coroner Timothy Brennand went through all the evidence that had been heard during the course of the inquest at Bolton Town Hall.
Family members had described Mr Sharp as a "doting dad-of-two" and someone who would "help or assist anybody if he could." On the day of the tragedy, he had been at a funeral and had then attended a wake in which alcohol had been consumed.
Mr Sharp was "well acquainted" with Mr Connors, who were both described as highly respected within the travelling community. They were both "fond of a drink" but were not described as having issues with alcohol.
The inquest also heard from two Uber taxi drivers, whose cars were both struck head-on by the speeding Mercedes in Frederick Road, Salford. The driver of one, Wasquas Pervez, described how he "thought he was going to die" when he saw the headlights bearing down on him, while the two female passengers he was carrying - both students at Salford University - were seriously injured in the collision and needed hospital treatment.
The Mercedes was described as travelling at speeds between 50mph and in excess of 70mph in a built-up area, and was passing through red traffic lights.
The two trained officers in the pursuit vehicle, known only as B1 and C1 at the inquest, gave evidence that they thought the speeding car might have been stolen or involved in a crime. They began following the Mercedes covertly at first, but when it ignored a request to stop, they mounted a spontaneous pursuit of the vehicle.
They told the jury that they considered the pursuit had been "justified and appropriate."
Paramedics attended and Mr Connors, 36, was pronounced dead at 12.48am on Thursday, September 24. Mr Sharp, 29, was taken to Salford Royal Hospital but was confirmed to have died at 12.56am.
Finally, expert evidence was given that indicated that both Mr Sharp and Mr Connors were found to have taken alcohol and cocaine prior to the collision, but it couldn't be said for if this played any part in the incident.
Before sending the jury out, the coroner told them there were only two conclusions they could reach - either death as a result of a road traffic collision, or a narrative account.