'Lives at risk' warning as half of North West homeowners admit they would tamper with gas boilers
The risk of a serious gas-related incident is high in North West England as a new survey reveals half of the region's population would consider fixing their own boiler.
Watch more of our videos on Shots! 
and live on Freeview channel 276
Visit Shots! now
Cadent, which provides the North West's gas emergency service, warns people are putting lives at risk by not employing a Gas Safe registered engineer for such work.
During Gas Safety Week 2023, Cadent pleaded with people to book an annual service, before winter arrives. The new survey showed 38 per cent of people in the North West are opting only to get a service every two or more years (or even not at all). This is the highest percentage of all regions in England, as well as Scotland and Wales.
"If you don't employ a Gas Safe registered engineer and you don't get an annual service, you are putting lives at risk," warned Paula Steer, Network Director, North West, Cadent.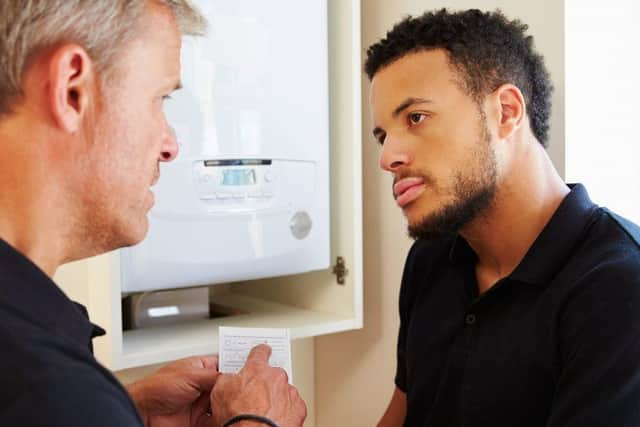 "I can't stress enough: you must leave this work to a qualified professional.
"We realise times are challenging for many, but the consequences just don't bear thinking about.
"Landlords have a legal duty to organise an annual boiler service by a Gas Safe registered engineer, and there are options and support available to people who own their own properties, if worries about cost are a factor in your decision.
"Please don't take the risk, and put your safety first."
Cadent has shared some new guidance which outlines the importance of properly maintaining gas appliances. To find a Gas Safe registered engineer local to you, or to check an engineer's registered status, visit www.gassaferegister.co.uk
Four in every 10 Manchester respondents to a new survey, commissioned by Cadent ahead of Gas Safety Week (11th to 17th September), said cost was the main reason to attempt DIY servicing, or not using the correctly qualified professional.
Dan Edwards, Head of Customer Centre Operations at Cadent, said: "These findings are not completely unsurprising as many customers delayed the maintenance of their appliances and put off firing up their boilers until the arrival of the cold snap last year.
"This behaviour could have very dangerous consequences for homeowners and so ahead of temperatures dropping this year, we want to encourage people to make sure they've had their boiler properly serviced by a qualified professional."
Dan continued: "If something were to go wrong and it was discovered that you had not used the correct tradesperson, or even attempted to repair your boiler yourself, there could be long term and legal consequences attached to these decisions.
"With our Services Beyond the Meter programme, which helps customers in vulnerable situations with any immediate safety issues, we are seeing more and more people sadly struggling to repair and replace old and damaged appliances due to the ongoing cost of living crisis. However, when it comes to protecting your family and those living in your home, gas safety must remain a priority."
Jonathan Samuel, Managing Director of Gas Safe Register, added: "Our advice is always to use a Gas Safe registered engineer for any gas work on your appliances. Landlords have a legal duty to ensure gas appliances are safety checked annually, and this is the advice we extend to anyone with a gas appliance."
Cadent, which operates the 24-hour, 365-day National Gas Emergency Service across the UK, has shared some advice in a bid to boost important gas safety awareness ahead of winter.
If you ever smell gas, call the National Gas Emergency Service, immediately, on 0800 111 999, day or night. All calls are recorded and may be monitored.
Five tips for safely maintaining your gas boiler:
Ensure all gas appliances and boiler servicing is carried out by the professionals – always call a Gas Safe registered engineer and get it done properly. Never risk doing this yourself if you are not Gas Safe registered, it's a very specialist job.
Book an annual boiler service with a Gas Safe registered engineer (and always ask to see their ID when they arrive at your home) to ensure it stays in good working order. Importantly, an engineer will also check all gas appliances in your property, including a visual inspection of your gas pipework and a tightness test to confirm there aren't any gas leaks. You will need proof of your boiler service if you sell your home and, of course, for landlords this is a responsibility, as they must provide an annual Landlord Gas Safety Record.
There are some minor boiler issues you can troubleshoot yourself. For example, in winter, frozen boiler condensate pipes are very common and can be thawed with water – follow our boiler troubleshooting guide. Other common faults include low gas pressure, the boiler switching itself off and cold water and should be looked at by a Gas Safe registered engineer. For leaks, or a pilot light replacement, you should always contact a Gas Safe registered engineer to fix the issue.
Make sure you leave vents unblocked, as these are there to help your gas appliance work safely and efficiently.
Recognise the warning signs of an unsafe appliance so you can take action. For example, a lazy yellow flame instead of crisp blue flame; error messages; unexpected noises from your boiler; or dark and sooty stains around your gas appliance could mean it is unsafe and releasing carbon monoxide (CO). Know the symptoms of CO poisoning.