Cheese pizza recipe from WW formerly Weightwatchers
Think you can't make pizza for the family in under 20 minutes? Well, think again, and try this take on the traditional ham and cheese pizza
By

WW formerly Weightwatchers
Published 2nd Sep 2021, 15:45 GMT

- 1 min read
Makes 1 l Prep 5 minutes l Cook 10 minutes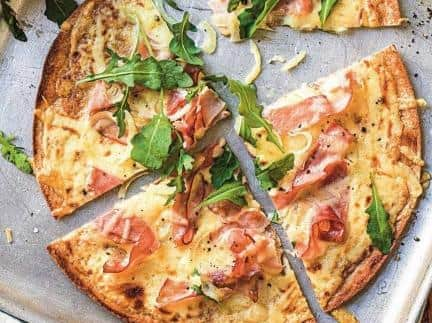 50g half-fat crème frâiche
30g WW reduced fat grated mature cheddar cheese
1 individual WW wholemeal wrap
1 medium shallot, thinly sliced
2 slices wafer-thin ham, chopped
1. Preheat the oven to 200°C, 180°C fan, gas mark 6.
2. In a small bowl, combine the crème fraîche, reduced fat grated cheese and a pinch of mustard powder, then season well.
3. Spread the crème fraîche mixture over a wholemeal wrap, top with some thinly-sliced shallot and the chopped wafer-thin ham, then scatter over another 15g of cheese.
4. Transfer to a baking sheet and bake for seven or eight minutes until the wrap is crisp and the cheese is melted. Cut into wedges and serve topped with rocket leaves
Smartpoints: Green 10 l Blue 10 l Purple 10