LUKE MARSDEN: Why I've had my fill of the World Pie-Eating Championships
​I don't like calling for things to be cancelled. In fact, as many will know, I'm a strong advocate of cancelling "cancel culture."
Published 27th Jan 2023, 04:55 BST

- 2 min read
Watch more of our videos on Shots!
and live on Freeview channel 276
Visit Shots! now
​But it does not sadden me to write that I think we need to call it a day with our World Pie-Eating Championships.
I suppose I should offer my congratulations to now three-time champion, Barry Rigby who managed to inhale a meat and potato pie in 34.5 seconds, but I can't bring myself to do it.
This week the competition returned to Harry's Bar in Wigan after a two-year hiatus thanks to the pandemic. I'd imagine sales of Rennies plummeted during that period.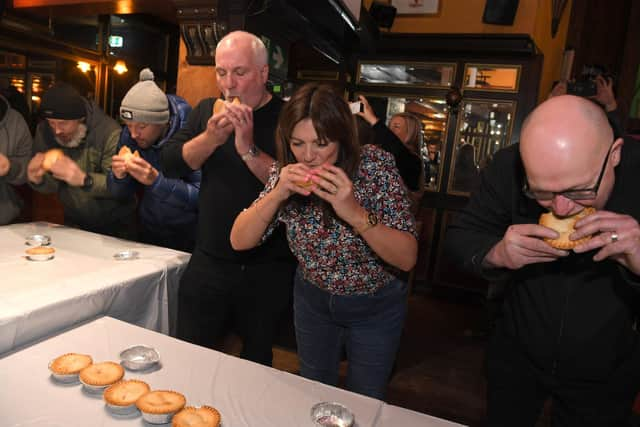 Wigan is a town that has many things to be proud of, but we're in danger of that list being overshadowed by the things that continue to draw attention to some of the odder aspects of life.
I'm sure Mr Rigby (after entering for over a decade) is thrilled he is now a three-time winner and likely a future Pie Eating Hall of Fame inductee, but after 26 years I think we should turn off the ovens and end the competition.
Moving the obvious health implications to one side and the perception of wasting food at a time where many (given the prices these days!) can't actually afford a few pies, Wigan looks like it doesn't want to shake its national perception as a pie-eating paradise.
Now, before the trolls come for me, I love a good meat and potato pie and, when I can, I support my local pie shops in buying them. But I don't think hosting a scoff-as-quick-as-you-can contest in a pub during the day to win a trophy called "Bradley Piggins" is a good look.
I'm calling on Piemaster Tony Callaghan to hang up his hat and put the pies away for good before Netflix commission a three-part documentary on the inevitable great pie championship heart attacks.
Barry Rigby has already said he'll be back next year to defend his crown. If you can't beat them perhaps I should join them?
I think that's probably a pie in the sky idea…