LUKE MARSDEN: Would it have killed Cummings to apologise?
I hadn't originally intended to write what I'm about to share with you.
Published 30th May 2020, 07:00 BST

- 3 min read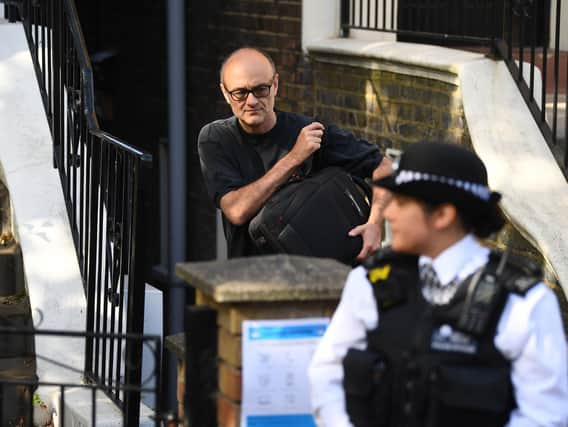 I did intend to pen this week's column on how my Facebook page was hacked and deleted last month and how I've had to start from scratch asking people to like it.
Asking people to like a Facebook page isn't that big of a deal, right?
One person took more time to message me and say "I was asking too much" than it would've taken to actually like the new page. I'm not asking for a new kidney.
This isn't about Facebook poking and liking. This week we've heard more about a castle in England than we probably heard through history lessons in high school.
Now I've actually been to Durham around 15 years ago on a family trip to visit my parent's friends, we didn't stop off at Barnard Castle and as far as I can recall my dad's eyesight was fine enough to drive back to Wigan.
I've read a lot (both on and off Facebook!) on people's thoughts on if Dominic Cummings made the right or wrong decision.
I've shared extensively with you over the past two months just how much I've obeyed the lockdown rules and the furthest I've driven is just to big Tesco at Central Park Way. But I don't have children so it would be hard for me to completely relate. That said, when I last went to Specsavers I can't recall them telling me to drive to Manchester to test my vision.
Would it have killed him just to have said sorry?
If he had just come out and said "yeah we needed a little break I had Covid-19 so we stopped off for 15 mins and took in the view."
That would've been enough but just like the guy who wouldn't like my Facebook page, doing the right thing isn't always in people's nature...
A message from the Editorial Director, Gillian Parkinson:
Thank you for reading this story on our website.
But I also have an urgent plea to make of you.
In order for us to continue to provide high quality local news on this free-to-read site and in print, please purchase a copy of our newspaper as well.
With the coronavirus lockdown having a major impact on our town centres and many of our valued advertisers - and consequently the advertising that we receive - we are more reliant than ever on you buying a copy when you pop out for your essential shop or subscribing for delivery.
Our journalists are highly trained by the National Council for the Training of Journalists (NCTJ) and our content is independently regulated by IPSO to some of the most rigorous standards anywhere in the world. Our content is universally trusted - as all independent research proves.
As Baroness Barran said in a House of Lords debate this week on the importance of journalists: "Not only are they a trusted source of facts, but they will have a role to play in rallying communities and getting the message across about how we can keep ourselves and our families safe, and protect our NHS. Undoubtedly, they have a critical role."
But being your eyes and ears comes at a price. So we need your support more than ever to buy our newspapers during this crisis. In return we will continue to forensically cover the local news - not only the impact of the virus but all the positive and uplifting news happening in these dark days.
We thank all our readers and advertisers for their understanding and support - and we wish YOU all the best in the coming weeks. Keep safe, and follow the Government advice. Thank you.
HOW TO SUBSCRIBE: You can subscribe for delivery by contacting us at [email protected] or calling us on 0330 4033004 for details of a participating newsagent near you.