Drinks writer Jane Clare of One Foot in the Grapes has reached the letter P in her alphabet journey
Why Pinot is an eminence gris in the wine alphabet
Published 5th Nov 2020, 12:30 BST

- 3 min read
Watch more of our videos on Shots!
and live on Freeview channel 276
Visit Shots! now
Can I have a P please Bob! If this statement doesn't make you groan then I'm clearly much older than you are. If you don't know what I mean, head to Google. If you do know what I mean, then I'm sorry I've used a moment of television nonsense to continue my alphabet journey in wine and drinks.
This week, in my A-Z journey of discovery, I've reached the letter P. First up, grape varieties.
I'll begin with my very favourite grape, pinot noir.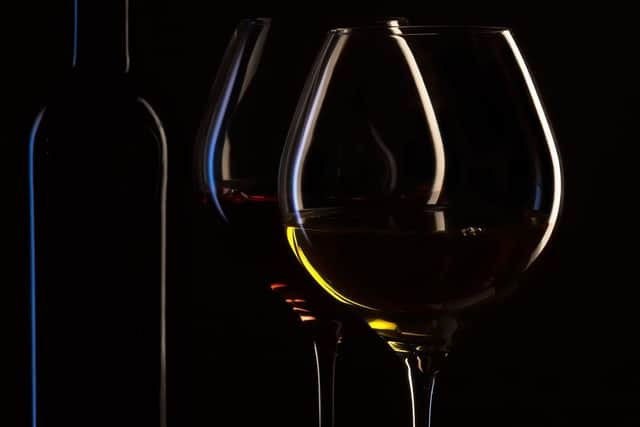 If you're a lover of bold reds then a glass of pinot, with its elegance and red fruit character, might not be to your taste. But I bet you've enjoyed a glass of champagne or two in your time.
It's very likely pinot noir played a delicious part in that tumbling, tinkling, finesse of fizz flirting in your glass. It is one of the three allowed grape varieties in champagne, the others being chardonnay and pinot meunier.
In my eyes, pinot noir is simply the best.
It's tricky to grow, but almost every winemaker dreams of being able to coax it into a wine that speaks of the place where it grew, of the nurturing it had in the winery. But it's not easy. Pinot noir is thin-skinned. It doesn't like hot places and in cooler climates those delicate grapes risk damage via rainfall, frost and hail.

But perseverance creates wines which show notes of strawberry, red berries, cherries and spice. Older wines can develop an earthy, mushroom character.
It's heart and origin lies in Burgundy; but there are fantastic wines from elsewhere including Germany (super delicious!) and California (also super delicious!)
My second variety is pinot grigio. It's a simple, uncomplicated wine with fruity notes of lemon and pear. If you're unsure which wines to like, but you know you like pinot grigio, then go for it.
However "pinot gris" on a label indicates a riper style of this grape family. You should find tropical fruits, with a creamier, satisfying mouthfeel. I love pinot gris. But not so much pinot grigio (sorry).
Here's two more Ps. My first is pecorino. A winemaker in Abruzzo, Italy, told me the grape is traditionally so-called because as sheep (pecoro) were herded over the hillsides, they ate the grapes along the way. The white wines are fresh, zesty, often with peach and lemon flavours.
Now to picpoul which means "lip stinger". The grape has driven a sales' surge in recent years, reaching our shelves in the form of Picpoul de Pinet. The grapes grow not far from the Med in the south of France. I love it. It's a zest of a white wine, with a memory of ocean breeze, that delights and refreshes in equal measure.
If you dare to step out of your pinot grigio comfort zones (please do it) then try these two grapes. You'll find them widely in our independent merchants and supermarkets.
Geeks like me have been anticipating the arrival of a new kid on the block. The "new kid" being pink prosecco. In my P theme I could have brought you pink wines, I could have brought you prosecco. I've exceeded that with a combination of the two. Pink prosecco. Or, to be precise, Prosecco Rosé DOC.
I'm sure you've sipped pink Italian fizz, and perhaps you thought it was pink prosecco. Well actually that couldn't be. The prosecco wine "powers that be" only agreed this year that this pink style can be produced.
I've been waiting … and sure enough, hot off the press, Aldi has said it will be the first UK retailer to have one on sale this very week.
I'm sure others will be very close on their heels.
Aldi's new Prosecco Rosé DOC (£6.49, 75cl) and Prosecco Rosé DOC Mini (£2.29, 250ml) are available at Aldi's website (from today).
l Jane is One Foot in the Grapes. She's an approved programme provider for the Wine & Spirit Education Trust. To find out how to study for a wine qualification, email [email protected]
I discovered the world of cocktails during lockdown. This week, if you want to get out the bunting, is Old Fashioned Week (until November 10). That doesn't mean old-fashioned people like me can wear their battered duffle coats. (Please say I can.)
In terms of a cocktail, an Old Fashioned is traditionally made with bourbon or rye whiskey, sweetened with sugar, and aromatised with bitters.
You could make one with the whiskey J&B Rare (£22.50, 70cl, Waitrose).
Stir together 50ml of J&B Rare, a sugar cube, and two dashes of Angostura Bitters into a rocks glass, adding ice. Garnish with orange zest.