Jane Clare of One Foot in the Grapes hits the letter J in the wine A-Z
Did you know that a jéroboam champagne bottle holds the equivalent of four normal (75cl) bottles of fizz (three litres).
By

drinks writer Jane Clare, of One Foot in the Grapes
Published 12th Aug 2020, 15:45 BST

- 4 min read
Watch more of our videos on Shots!
and live on Freeview channel 276
Visit Shots! now
Young wines run free as we hit J in the wine A-Z
Here we are again. We're inching towards Z in this non-scientific consideration of drink-related themes in alphabetical order.
We're up to the letter J; and please, no complaining if I've ignored topics you believe I should have slotted within the B theme, or the C section. Don't knock on my door as smug as TV's Blackadder when he meets a satisfied Dr Johnson who had finished compiling his English dictionary.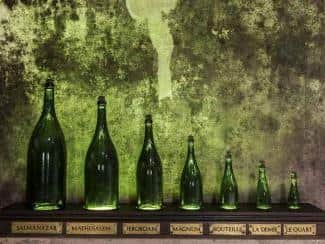 "My most enthusiastic contrafibularities," says Blackadder mischievously, putting Johnson in a spin with a word he's not heard before.
Nope. Don't do that to me.
I know I've not covered every possible theme. But where would I be when I've concluded this randomness via the letter Z? I'm saving things to write about beyond the confines of 26 letters.
On to it then, and my first J is the name of an ancient king of Israel. But it's also a bottle. The word is jéroboam and it's a great one to slot into a Zoom quiz with the family.

Did you know that a jéroboam champagne bottle holds the equivalent of four normal (75cl) bottles of fizz (three litres).
Ah, but just as you're feeling comfortable, I'll add that a jéroboam in the Bordeaux region holds five litres.
Nothing in life is simple.
I'll remain with champagne sizes: After a jéroboam you'll find rehoboam (six bottles); methuselah (eight bottles); salmanazar (12 bottles); balthazar (16 bottles); nebuchadnezzar (20 bottles).
Off you go then, compose your quiz question.
My next J is young and fruity and often juicily delicious. I'm talking about joven. I've floated that word in front of you before but just in case you didn't join me, here's the thing about joven.
In Spain "joven" means young. If you should spot a Spanish wine with "joven" on the label, the nectar inside should just speak of the fruit. No oak influence, no bottle aging, just fruit, like this one from Lidl, Cepa Lebrel Rioja Joven (£4.99).
Now I'm off to the land of the rising sun: Japan.
This is the home of sake, an alcoholic drink made by fermenting rice. But I'm saving that and instead I'm waving whisky in front of you.
The Japanese have developed their whisky-making skills based on the Scottish model. Back in the 1920s a young man called Masataka Taketsuru served an apprenticeship at a distillery in Scotland. On his return to Japan he set to work and in 1923 distilled the first Japanese whisky.
I won't bore you with the science, but the Japanese use a process which refines the
distillation, delivering razor-sharp flavour profiles.
There's a smashing choice of Japanese whisky online at thewhiskyexchange.com or if you're in and around Tesco or Sainsbury you could seek out Suntory Whisky Toki (around £30).
I'll move over to another J and the Jura wine region which sits between Burgundy and Switzerland.
The Jura is home to a distinctive sip called "vin jaune" in which wine is aged under a thin film of yeast, pretty much similar to the production of fino sherry.
As I'm a fizz addict, I'm excited the Jura is also home to one of the French crémant sparkling wine appellations.
Crémant du Jura sits with Crémant d'Alsace, Crémant de Bourgogne and a handful of other regions which produce fantastic sparkling wines.
Crémant is made in the same way as champagne and the appellations use local grape varieties. In the case of the Jura, this means chardonnay is prominent.
You can discover more at jurawine.co.uk.
I'd better start racking my brain for the K theme! Bye for now.
Jane is a member of the Circle of Wine Writers, on social media as One Foot in the Grapes. She is also an approved programme provider for the Wine & Spirit Education Trust. Email [email protected]
If you spot a Spanish wine called 'joven', the nectar inside should just speak of the fruit
Next time I'm here, the celebrations for my favourite red wine will have finished. The bunting will have been taken down and the pots washed.
International Pinot Noir Day takes place on August 18 but in my humble opinion, pinot noir should be celebrated all year round. I love, love, love it.
If you're a white wine drinker and nervous about figuratively dipping your toe into red wine, then pinot noir is a great start.
It has low tannins, is light-bodied, and exudes elegance with its notes of raspberry, strawberry, cherry and sometimes a little spice.
Your homework, should you want some, is to seek a bottle and enjoy it on August 18.