Jane Clare, of One Foot in the Grapes reaches the letter K in her A-Z Wine Journey
KWV Cruxland Gin isn't just an alphabetical lifesaver, it also has award-winning credentials.
By

Jane Clare, of One Foot in the Grapes
Published 27th Aug 2020, 15:45 BST

- 4 min read
Watch more of our videos on Shots!
and live on Freeview channel 276
Visit Shots! now
I've reached the letter K in my A-Z journey, my dalliance with all things drinks-related set out in an alphabetical structure. Wow, this episode is a challenge!
In earlier weeks I had Bs and Cs leaping out of my head, all eager to take their place in this random collection. There were so many I couldn't fit them all in this space and some walked away disappointed. Beaujolais has been ignoring me ever since.
By contrast, I'm not exactly turning Ks away from my door. I've been thinking, is this plan kaput? Do I have to put the kibosh on the whole project, kiss it goodbye and slip away?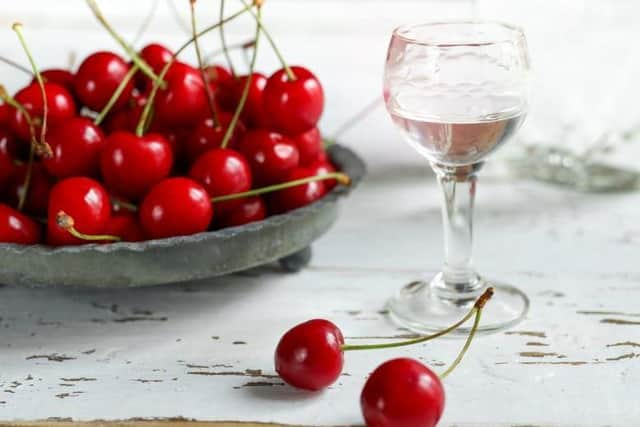 Then I remembered one of my favourite gins and realised I could share that with you. Gin is always a solace I find, especially when it begins with the letter K.
KWV Cruxland Gin isn't just an alphabetical lifesaver, it also has award-winning credentials. The gin is produced in South Africa and was voted the World's Best London Dry Gin in the 2020 World Gin Awards (www.worldginawards.com).
Judges described it as: "Tremendously clean, well balanced. Elegant pine with beautiful fragrance."
The gin is made from eight botanicals, with the unusual addition of Kalahari truffle. The truffle is distilled separately and then added to the botanical blend. You can find the gin (around £27) at Morrisons or www.masterofmalt.com. Now I've had a gin, the Ks are waking up to tap me on my shoulder. Here's another. Kirsch.

I've had a bad relationship with kirsch recently, in that it popped up as an exam question and I fluffed the answer.
My dear friend kirsch, I'll make up for my spirits' exam gaffe by telling these dear readers about you. Kirsch is a fruit brandy made from cherries, mainly in Germany.
The cherries are crushed and the juices fermented into a low-alcohol liquid which is then double-distilled into a spirit.
Producers make a decision before crushing and fermentation. They can decide whether to keep the cherry stones in, or leave them out.
If the stones remain, the final spirit has a distinctly marzipan aroma. But if the stones are removed, the brandy has more intensity of cherries. If only I'd remembered all that in my exam. Head bowed, I'm moving quickly on to my next topic.
Because I mentioned Germany with one K, another K has come along and reminded me of its own German credentials. This K is kabinett and it's the name of a German wine style. (German wines are among my favourites in the world.) Just as we would expect, the Germans have classified their wines with precision. Here's what to expect if a German wine labelled "kabinett" came into your life. One of the classifications used is the Prädikat system, which measures grapes - and labels the subsequent wine - on their ripeness. The term "kabinett" is at the lower end of the sugar ripeness scale. A kabinett riesling for example, could be light-bodied and dry with low alcohol. The sugar content in the grapes wouldn't have been sufficient to create a wine with lots of alcohol. The next classification level, a spätlese wine, is made from grapes harvested a little later. Those grapes are riper and have more sugar content. If you taste a spätlese wine, it's not necessarily sweeter than a kabinett but it will have more depth and body and be higher in alcohol.
That's by default of the yeast being able to convert more sugar into alcohol during fermentation. I hope that didn't confuse you too much. Just in case, go make yourself a Kir Royale and have some chill time. Pour a tablespoon of crème de cassis into a champagne flute and top with champagne. Or prosecco. Or even just white wine.
I won't tell anyone. Phew. I can't believe I found enough Ks to get me through.
Jane is a member of the Circle of Wine Writers, on social media as One Foot in the Grapes. She is also an approved programme provider for the Wine & Spirit Education Trust. Email [email protected]
Gin is always a solace I find, especially when it begins with the letter K
We were all stunned by the blast which ripped apart Beirut. It was shocking, I don't need to say any more. You may not be aware that wine is pretty much Lebanon's only export, and one which is bringing much needed export dollars into a country in the midst of a financial crisis.
Those aren't my words, but those of Madeleine Waters who used to help raise the profile of Lebanese wines. Now Madeleine is organising a special online wine-themed auction to raise much-needed funds to help the people of the city. It is taking place this weekend (August 28 to 31). Follow #BidforBeirut on Twitter, or go to www.jumblebee.co.uk/BidforBeirut