Paint-by-numbers: therapeutic but devilishly painstaking | Jack Marshall's column
In the early seasons of The Crown, the deliciously broody and self-obsessed TV series on the Royal Family, Sir Winston Churchill is seen attempting to unwind by painting. Wrapped in more tweed than a Nigel Farage lookalike convention, he sits in his garden, dabbing away with a scowl daubed across his furrowed brow. It doesn't look like he's having any fun at all.
Published 12th Dec 2022, 16:08 BST

- 2 min read
Updated 23rd Dec 2022, 10:36 BST
But the scene inspired me and my girlfriend. Painting! Let's get into painting. Trouble was, we're both emphatically unartistic. Out of a desire not to denigrate her creative capacity with brush in hand without offering her right of reply, I'll focus on my own shortcomings, which are myriad. Suffice to say that my C in GCSE art from 2010 remains a minor academic miracle.
But the yearning to have a go at painting lingered, and so, like countless middle-aged mums on 'well-being kicks' and toddlers getting to grips with the concept of felt tips, we turned to the trusty paint-by-numbers. We were to be painters (of sorts) and, to paraphrase countless Indians during the 1943 Bengal Famine, it was all Winston Churchill's fault.
At this stage, pride implores me to point out that these paint-by-numbers are no ordinary paint-by-numbers. They're aggressively intricate, featuring flecks and seams so minute and labyrinthine that one session painting in the dim spaces between the cobbles on the street by the Italian lakeside villa in my picture left me with a numb thumb for four days.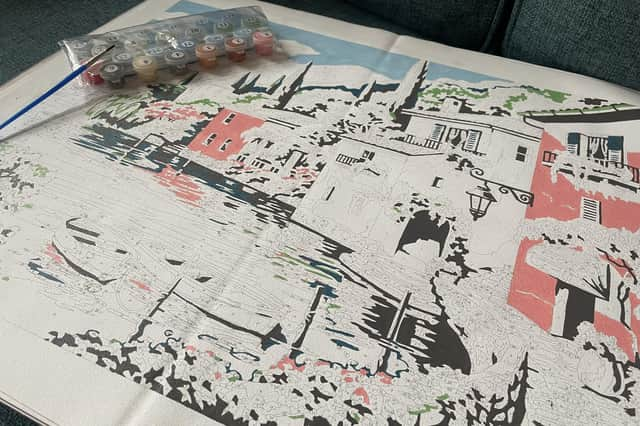 And the going is slow - around the pace that fingernails typically grow. I've poured comfortably in excess of 12 hours into my masterpiece so far, and all I have to show for it is a bit of blue sky, some shadowing, the Mediterranean-pink villa walls, some deep blue watery hues, and a splash of green in the trees. I'm literally months off finishing.
But there's intense comfort in the pursuit, a calming assurance in the aching process. That sweet spot where you simply dip your brush, loom over the outlines, and methodically fill the spaces in one by one is peacefully clear, so I'm starting to wonder where 1950s Churchill's cloudy demeanour came from. It's almost as if he had other things on his mind.