Art competition raises £1,000 for incurable lung condition awareness
A Wigan family has raised more than £1,000 in the fight to help people suffering from an incurable condition which their mother died with.
Published 11th May 2021, 07:00 BST

- 2 min read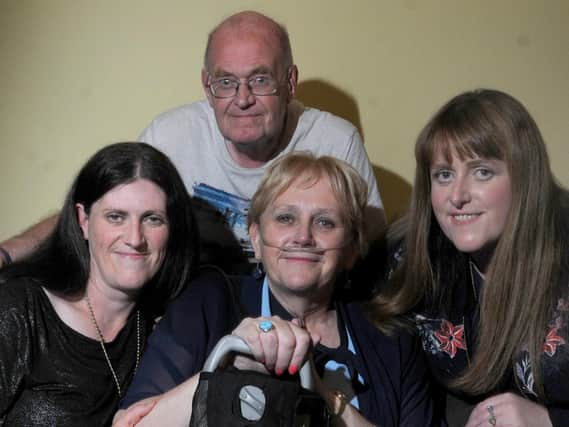 Louise Doran and sister Jenny launched an art competition to raise more money for the Action for Pulmonary Fibrosis charity, a growing community of patients, families, researchers and healthcare professionals striving to find a cure for the lung disease, in memory of their mum Anne.
Anne from Orrell, was 66 years old when she died last August, having suffered for years with idiopathic pulmonary fibrosis, a condition which causes the lungs to scar over time. The most common symptoms include shortness of breath, dry coughing and fatigue.
She was diagnosed in 2012, and battled the illness for eight years before her death.
The art competition, which raised £1,040 in her memory, mustered the support of local businesses, who offered up some exciting prizes for entrants, such as gift sets, art tutorials, top-of-the-range walking boots and signed books.
Louise explained how pulmonary fibrosis limited her ability to perform even the simplest daily tasks.
"Someone at work noticed she was coughing a lot, and said she should get it checked out, " said Louise, who lives with her dad Thomas and sister Jenny.
"She had a lung biopsy and diagnosed with pulmonary fibrosis. Initially, she was doing as much as she could, getting out and about.
"But it progressed, and in the last couple of months progressed quite rapidly.
"It got that bad that she couldn't move on the sofa, she couldn't walk more than three steps. She was on 15 litres of oxygen a day, with a mask, a meter on her finger checking her heart rate constantly.
"It's so debilitating and there's so many people who are so frightened.
"She was constantly connected to this tube anywhere she went in the house, even when she went to bed.
"But sometimes even that wasn't enough. She would have to wear a mask, which made her feel claustrophobic."
"It's just awful. She had always done a lot, she was a magistrate, a school governor, and a manager in the NHS.
"She always went walking with my dad, and she went from all that, to not being able to walk three steps.
"There's no cure and only two drugs available, which only slow down the progression, if you're lucky."
To find out more about the condition and the winners of the art contest, visit www.facebook.com/IdiopathicPulmonaryFibrosisAware