Call to donate bikes for Wigan key workers
The 'Re-cycle to work' scheme aims to keep Wigan's front-line workers moving on two wheels as the lockdown is eased.
Published 2nd Jun 2020, 13:34 BST

- 3 min read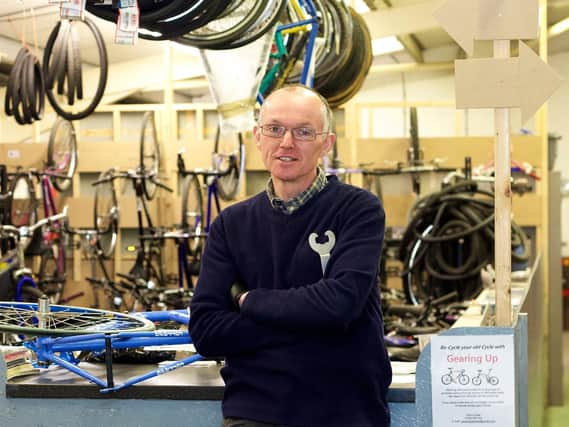 Inspiring healthy lifestyles, Gearing Up, Wigan Warriors Community Foundation, Wigan Athletic Community Trust and Wigan Council are teaming up for the initiative.
Unwanted and unused bikes can be donated to Gearing Up, where they will be refurbished and offered out to NHS staff and other key workers for a small fee.
There is currently growing demand for good-quality bicycles to help front-line employees who do not have cars get to work without using public transport due to the Covid-19 pandemic.
Simon Dale, who is running the project with Gearing Up, said: "We've already handed out a huge number of bikes during lockdown. There are so many hugely-important key workers without a bike needing to travel to work.
"We are grateful for all donations, but better-quality bikes means we can get them re-homed and put to good use faster."
As well as a fully-operational bike, key workers will receive a helmet, bike lock, and multi-tool, along with advice and guidance for cycling and bike maintenance and follow up information.
Pete Burt, managing director for Inspiring healthy lifestyles, said: "We are proud to be able to support key workers and collaborate with our partners to deliver this project which we hope will see key workers access affordable bikes and a cheaper, greener way of commuting.
"Cycling is a great way to travel, has many health benefits, and with Wigan Council's commitment to cycling infrastructure the borough is set to be a great example of how a community can embrace bikes as a means of transport."
Coun Jim Moodie, lead member for leisure at Wigan Council, said: "This initiative is a fantastic way to support our key workers while also encouraging more people to think of sustainable modes of transport, whether this be for leisure or commuting.
"With the current pandemic preventing most travel unless for essential shopping or for exercise, it's important we think about how to use our leisure time outdoors wisely. With less cars on the road, now is a great time for those who are new to cycling and walking to give it a go.
"In addition to prioritising our key workers, we will also engage with our volunteers in the community hubs to identify residents who would most benefit from a bike. We are also looking at offering bike loan schemes to our employees.
"We are proud to work with Inspiring healthy lifestyles on this project, as well as supporting the Greater Manchester Safe Streets Save Lives campaign, which looks at how we can use temporary and pop up infrastructure to support cycling and walking in line with social distancing measures."
The project is running alongside the Safe Streets Save Lives campaign, launched by Greater Manchester Mayor Andy Burnham and backed by the region's cycling and walking tsar Chris Boardman.
Donated bikes should be in a reasonable condition and can be handed over at Central Park (WN5 9XL) between 9am and 3pm Monday to Friday or at the Gearing Up workshop at The Brick at 4 Hodson Street (WN3 4EN), between the hours of 9am and 5pm Monday to Friday.
Collection is also possible on weekdays if booked via email [email protected] or by ringing 01942 488481.