Charity helping older Wigan residents calls for donations to hampers project
Age UK Wigan Borough is planning to spread a little Christmas cheer to keep people's spirits up this winter.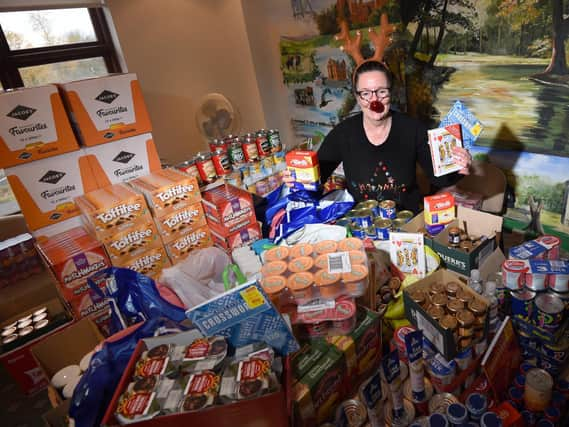 However, while it has amassed enough goods to fill around 100 hampers already it has found itself short of boxes and bags to put them in.
The charity, based at Pennyhurst Mill on Haig Street, is therefore launching a public appeal for people to help it finish the project.
It also says further donations of tinned goods will be gratefully received as the more produce it gets the more smiles it will be able to put on residents' faces during the festive season.
The hampers were the idea of Age UK Wigan Borough housing and care advisor Steph Hodgkinson and the charity says that with the terrible events of the coronavirus pandemic it is more important than ever this year to support older people and ensure they know they are being thought about.
Age UK Wigan Borough chief officer John McArdle said: "We've got a roomful of hampers and we've been out shopping in local stores for packs of shortbread, trifle mixes, jellies, coronation milk, shower gels, soaps and other items.
"We're trying to make people feel a bit better after what has been a difficult year. It has been particularly hard for some of the people we work with. They have been shielding or stuck at home and there has been a lot of negative stuff about how the virus affects older people.
"Unfortunately we've realised we haven't got boxes and bags, so we're hoping that if people have some empty boxes or spare carrier bags at home they will let us have them.
"Trying to keep people upbeat is important. This time of year is hard for people anyway with shorter days, longer nights and the weather often being very changeable.
"We hope the hampers will make older residents realise people are thinking about them and hoping they have a decent Christmas. We've done hampers in previous years and it really matters to people that we have taken the time to put them together and send them out."
The charity has already spent around £1,600 of its own money putting together the hampers and their contents.
To donate items ring 01942 615880 or visit www.ageukwiganborough.org.uk