Dance rehab group teams up with artist for new work
The Turnpike, in Leigh, is unveiling Epic Luxe, created through a ground-breaking partnership between Fallen Angels Dance Theatre and Liverpool-based visual artist Frances Disley.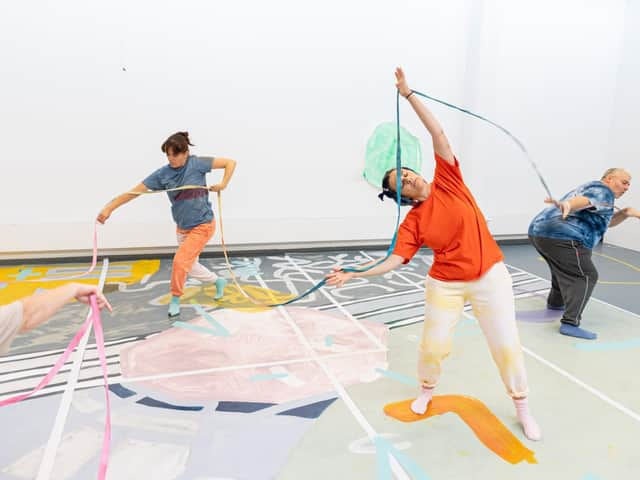 The group, which uses dance to support people in recovery from addiction, worked with Frances for more than a year in addition to meeting for their regular sessions.
The result is a co-choreographed work which explores the experiences of addiction and recovery using colour, pattern, props and play.
Epic Luxe has been committed to video and is available to view online, while a short behind-the-scenes film has also been produced.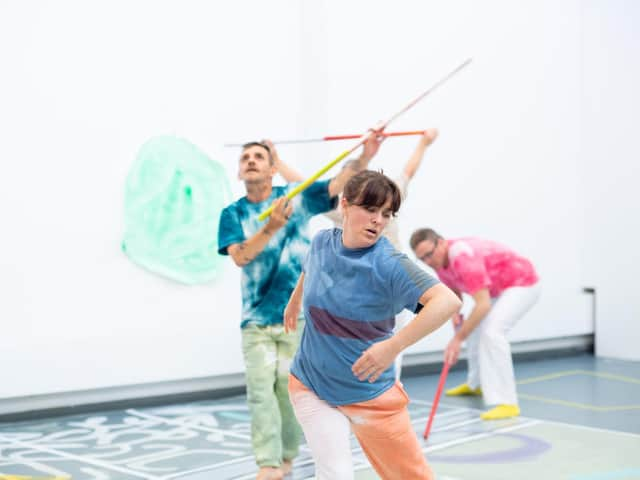 Artist Frances said: "It's a sculptural, painterly work where the dancers activate and shift the piece constantly via their movement and interaction with the objects involved.
"Central to the work is a large painted dancefloor, which was initially intended to act as a score for the performance, but has become a document to how the work has evolved and adapted in response to circumstance and the needs of the dancers."
Epic Luxe has undergone some major changes during the process of creating it due to the Covid-19 pandemic. Producing the art this year has meant taking into account social distancing, physical connections between dancers, sharing props and providing support structures for those involved.
Frances said: "This was a deeply collaborative process where the performer's reactions and responses were welcomed throughout the creative process.
"Developing a dance work within a gallery space as opposed to a theatre or dance studio allowed me to profile the physical objects and the dancers on a par, so that they truly function as a collaboration with a levelled hierarchy.
"I think stripping out the possibility of any theatrical lighting or ambient enhancers associated with theatre allows for a clarity in what the viewer is exposed to, which I have loved wrestling with."
Paul Bayes Kitcher, artistic director of Fallen Angels Dance Theatre, said: "This is the first time Fallen Angels has collaborated with a visual artist.
"The project was an amazing opportunity for people in recovery from addiction to explore, play and be immersed and indeed become the art.
The collaboration between Fallen Angels and Frances is one of a number of projects The Turnpike has been working on bringing artists and community groups or organisations together.
Helen Stalker, director at The Turnpike, said: "At The Turnpike we're most interested in reciprocity, the exchange of ideas and a collective re-imagining of a sustainable and positive future.
"Long-term embedded projects such as this are an example of exploring and overcoming adversity through genuine creative partnership."
To view the footage of Epic Luxe, go to The Turnpike's account on Vimeo.
For more information about the dance rehab group, visit www.fallenangelsdancetheatre.co.uk/wigan-and-leigh