Frustrated residents demand action on anti-social behaviour hotspot
Neighbours want to stop a stretch of road being used as a place to dump waste or torch cars.
Published 26th Apr 2021, 11:07 BST

- 3 min read
Updated 26th Apr 2021, 11:10 BST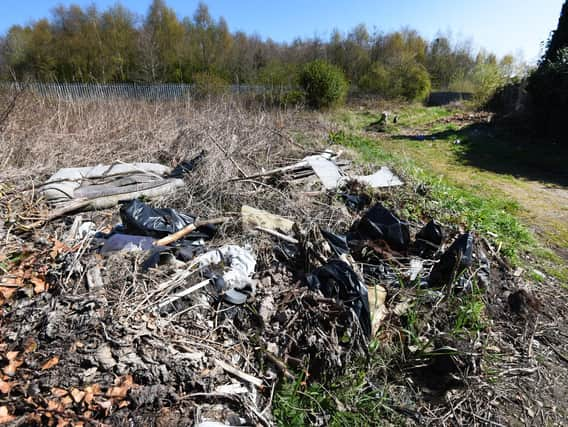 Residents on Devonshire Road and Oxford Road in Atherton say they are at the end of their tether over the problems with anti-social behaviour in the area.
They say the stretch of asphalt between the two streets on the Hag Fold estate is regularly the site of vehicles being dumped and then set alight and there is also a major issue with fly-tipping there.
Residents, though, say that this should not be an insurmountable problem and have suggested installing a bollard that can be raised or lowered.
They also criticised the Atherton ward councillors, saying the matter was brought to their attention last year and nothing has yet been done about it.
The Independent Network (IN), which holds all three seats in the ward, has spoken about the work it has been doing to tackle the problem and stressed it is also keen to find a solution.
Zoe Irlam, who lives on Devonshire Road, said: "This has been going on for years, this area has always been an attractive place for people up to no good.
"Residents are having to phone the police and fire brigade to the back of our houses because abandoned cars are left there by thieves, vandalising the vehicles and burning them out.
"We have a few fly-tipping incidents annually and in the last year we have had about four cars left here to my recollection.
"It is a really pretty spot but desecrated by careless individuals. We have all had enough of it.
"We spoke to our councillors last summer and thought something would be done but nothing has happened.
"I know that with lockdown the council hasn't been able to action much as it has had emergency stuff to do but it's getting to the point now where my young son is realising the police are out there.
"My children should feel comfortable and shouldn't have to see that.
"I feel that a single bollard that would prevent anyone from driving up unless they had a key to unlock it would solve the problem."
The Independent Network (IN) said its councillors for Atherton ward are well aware of the ongoing problems on the access route between Devonshire Road and Oxford Road.
It responded to the allegation that elected representatives were not doing enough, saying fly-tipping and a burnt-out car had been reported to the council and the idea of a barrier had been raised with the town hall.
Jamie Hodgkinson, the IN candidate in the local elections for Atherton ward, said: "This week I have also raised my concerns to the council yet again, as this site seems to be a hot-spot for fly tipping and crime.
"I believe that it would be more cost effective for the tax payer to erect a barrier to stop disruptive vehicles accessing this stretch of land.
"After speaking to local residents, this access road is rarely used and even the railway engineers park their vehicles on the public road before walking up.
"We also have to take into consideration the potential delays due to the main effort by the council being directed towards the pandemic, but the erection of a barrier here is something that all of the elected members in Atherton support and this is something that we will continue to pursue."
Zoe Irlam is standing for Leigh, Atherton and Tyldesley Together (LATT) in the local elections in Atherleigh ward. The other candidates are: Paul Fairhurst (Conservatives), Lorraine Gillon (Liberal Democrats), John Harding (Labour), Natasha Hodgkinson (Independent Network).
The candidates for Atherton ward are: Julie Hilling (Labour), Jamie Hodgkinson (Independent Network), Emily Siddall (Conservatives), Quinton Smith (Leigh, Atherton and Tyldesley Together).
If you value what we do and are able to support us, a digital subscription is just £1 for your first month. Try us today by clicking here and viewing our offers.