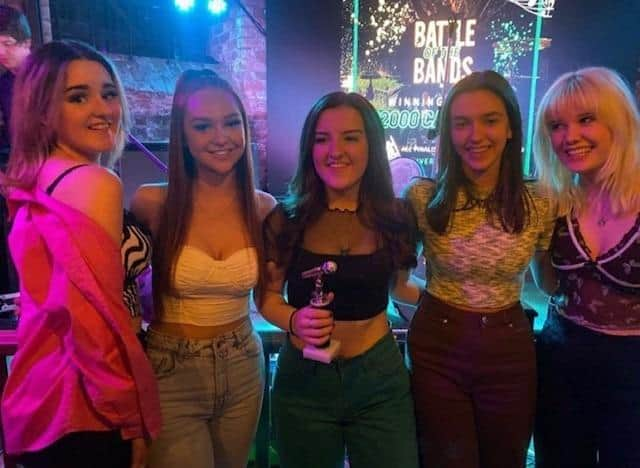 Mango
Winstanley College band Mango won the Punch Tarmey's Battle of the Bands competition in Liverpool winning the top prize of £2,000.
Mango is an all-girl rock band formed at the college last year by music performance students: Freya, Hannah, Izzy, Amber and Maria with this event being their first ever live gig outside of the educational setting.
The girls picked their favourite songs to play from a variety of genres so there was something for everyone and also performed their first original song Amber Leaf.
When asked about how they felt about winning such a competitive competition the band said: "After winning Punch Tarmey's Battle of the Bands competition, we are extremely overjoyed, proud and still in shock!
"When entering, we knew we would have to put a lot of effort into it as in comparison to other bands we had very little gig experience.
"It was our first ever live gig since being a band, so to win the competition was a massive deal for us.
"We were all over the moon, it gave us so much hope for our future as a band. Even if we hadn't won, we all had an incredible time and just getting the experience was so exciting!"
Mango's next gig will be on Saturday July 9 when they perform at the Haydock Music Festival at Haydock Cricket Club.