Kitchen songs are a big hit for Wigan singer
A Wigan teenage singer has told how her battle with mental health problems and an eating disorder has inspired her to release music.
Published 7th May 2020, 09:32 BST

- 2 min read
Updated 7th May 2020, 09:52 BST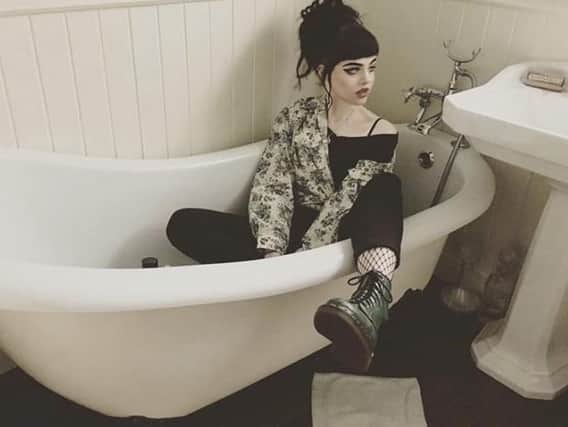 Alyssia Meadows has proven to be a hit after uploading her first tracks onto platforms including Spotify, iTunes and Apple Music.
Calling herself "Dodgy Ketchup", the 18-year-old's songs include Apples and Oranges, Dog Food and Sad Boy and are simply sung into her mobile phone.
Descring herself as an alternative indie rock singer, Alyssia 's songs are an expression of how she feels and of her struggles with depression and anxiety.
Alyssia, 18, said: "My music is dark and mysterious but at the same time quite upbeat.
"They're about mental health and explore and challenge the beliefs around it.
"Even if people don't relate to it, I hope they can see patterns in my music and that the songs can be similar to a situation they could be in.
"I simply perform the songs in my kitchen at night and press record and sing into my phone.
"The songs are whatever I'm thinking about, so literally there were some apples and oranges in my kitchen one night and that inspired the song."
From a young age, the former Wigan and Leigh College pupil has had a keen interest in music, entering talent competitions at the age of 10 and headlining Preston Pride in 2018.
She has struggled with anger problems from as young as two while she has battled depression, anxiety and eating disorders in her teenage years.
Alyssia said: "From about the age of two, I had anger problems and it's suspected I may have autism.
"While my depression and anxiety has been bad in my teenager years to the point where I've felt suicidal and wanted to self-harm.
"I've also stopped eating completely at one point with the eating disorders and almost ended up in hospital.
"So the lockdown is a struggle for me but I've got it under control.
"My music is a great escape from all this and something I enjoy doing."
Alyssia said she would love to forge a career as a singer and plans to continue singing her tunes.
She said: "The songs have had a good reaction to date.
"Adam Brown from XS Manchester liked a song I shared on Twitter and I've been uploading them on Spotify, iTunes and Apple Music.
"Apples and Oranges is on Sound Cloud and has had a good one thousand views already."
To listen to Alyssia's music, visit Dodgy Ketchup on Facebook.