Last orders ahead of Bank Holiday bonanza!
​The bell for last orders has been rung, for now, at the Twisted Wheel Brew Company in Standish.
Published 19th May 2020, 18:43 BST

- 2 min read
Updated 19th May 2020, 18:46 BST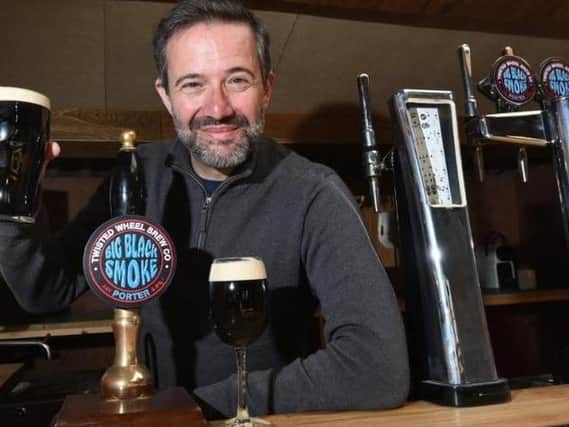 But there's still plenty of drinking up time - and the chance to help local charity Joseph's Goal!
The fledgling brewery, which only opened in October 2019, had a full beer calendar before the Covid-19 pandemic struck.
As a result, they had the small matter of 17,000 pints of beer to shift - without having had time to establish much of a customer base.
Mark Dearman, who covers the sales part of the business, came up with the idea of slashing the price of the beer, and donating half of the profits to Joseph's Goal.
Customers would also hopefully become hooked on the product ... and the response over the last few weeks has been fantastic.
Already, the charity has also received more than £600, which will go towards funding vital research into the rare genetic disorder NKH.
And Mark is hoping one final week of trading - boosted by the upcoming Bank Holiday - will help push the total into four figures.
"We're delighted to have raised so much money for a great cause," said Mark.
"But we'd like to go for one last push and I'd really like to take the total raised to £1,000.
"We will deliver Thursday and Friday plus if required on Saturday morning.
"And hopefully the Bank Holiday will boost the amount for Joseph's Goal."
The following beers will be available, in 2-litre bottles or 5-litre mini kegs:
* TEN PIN ABV 4.0% - TRADITIONAL BITTER;
* SPRING RAIN ABV 4.2% - PALE ALE;
* HARLEM SHUFFLE ABV 4.6% - GOLDEN BROWN ALE;
* BIG BLACK SMOKE ABV 4.9% - PORTER.
The 2-litre bottles will be priced at £5 each, and the 5-litre mini kegs will be priced at £20 (this includes the price of the keg, which can be used again).
Also on sale is their newly-brewed session pale ale, the 'Sunday Sessions' which is hopped with mosaic and available in 5-litre mini kegs for £22.50 each.
Their new IPA's are Speed Wobble (4.7%, £3.25) and Hoodoo Voodoo (6.5%, £4).
Any orders for 12 cans enjoy a 15 per cent discount, with a 25 per cent saving for 24 cans ordered (this includes a mixed can order).
Delivery is free and to order, call 01257 427 832 (brewery) or 07834 216 219 (sales) for orders and more information.