Manager Matt's poetic tribute sparks Manchester United food bank donation
A van full of provisions for vulnerable residents has made its way to the borough thanks to a council manager's emotional tribute to the NHS and Manchester United's foundation.
Published 17th Apr 2020, 16:09 BST

- 2 min read
Updated 17th Apr 2020, 16:09 BST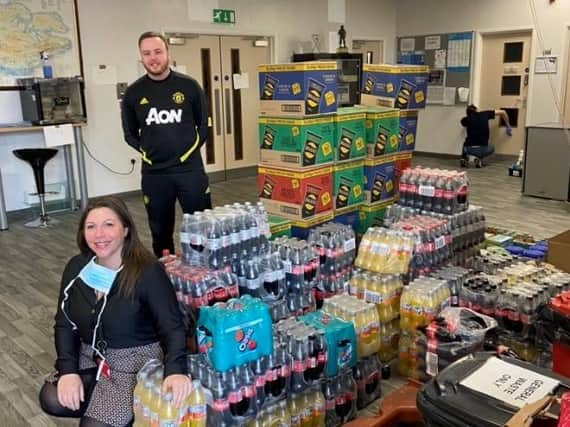 Wigan Council's Matt Kelly became the voice of the nation earlier this month when his poem was read across the BBC Radio 5 Live airwaves by Bafta award winning actor Christopher Eccleston.
What was originally just meant to be a thank you to his partner, who is a district nurse, soon became a national hit and was heard far and wide.
After becoming aware that Matt was an avid Manchester United fan, the club got in touch to see if they could share his message of hope and make their own contribution to the community effort in response to COVID-19.
On Friday a van packed full of food and drink arrived at Wigan Borough's Armed Forces Hub. Items will now be distributed across the borough for those in need.
Commenting on his poem and the donation, Matt, who works in the council's park and streetscene team, said: "I have been very humbled by the overwhelming response to the "Our Heroes" poem which is purely a tribute to our incredible NHS staff and frontline workers.
"It's heart-warming to see that Manchester United has contacted the council after being inspired by the poem to see what they can do to help.
"The food banks in our seven community hubs are a vital part of the council's response to support vulnerable residents in the borough at this difficult time."
The latest donation by Manchester United's foundation is another welcome boost for the seven community hubs established in the borough.
Dedicated staff have been busy helping distribute thousands of food parcels.
Anyone in urgent need of support, can call 01942 489018 and a worker from your nearest hub will be in touch as soon as possible.
John Shiels, chief executive of the Manchester United Foundation, said: "Since lockdown, our coaches have worked tirelessly with staff at the football club to ensure that food and gift donations have been delivered to hospitals, food banks and charities across Greater Manchester.
"Today's drop off at the Wigan Council Food bank, has particular resonance with the Foundation; not only are we proud to work in the borough fulltime (at the Dean Trust Rose Bridge secondary school), but it also gives me a chance to publicly thank Matt Kelly for his inspirational poem, 'Our Heroes'.
"It had a great impact on our fans, and all staff at Manchester United will continue to do everything we can to help the NHS and our local community during this extremely challenging time."
Wigan Council thanks Manchester United for their support.
Speaking earlier this month when the poem was released, leader of the council, Coun David Molyneux, said: "Matt's inspiring words encapsulate our gratitude for the NHS and all key-workers and this emphasises why we all need to do our bit to relieve the strain on them by following the public health guidelines."