Missing ferret is found in bed... with a stranger
A runaway ferret was reunited with his owner after he jumped into bed with a startled man.
30th Sep 2020, 7:00am
- 2 min read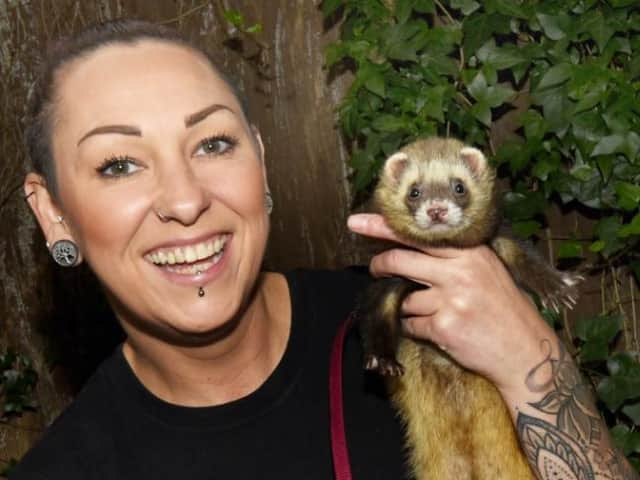 Lisa Marie Buckley reunited with her ferret, Thomas
The 18-month-old brown, black and white ferret Thomas had got through a cat flap and climbed into bed and awoke Patrick Newman at his home on Lymn Street, Platt Bridge.
He managed to track down and return the pet to his owner Lisa Marie Buckley who lives some two miles away on Spindlewood Road, Ince.
The animal had escaped through the front door of her home on the night of Saturday, September 19, after daughter Ayisha, 13, had gone to put some rubbish out.
After Lisa raised the alarm about his disappearance, darting Thomas was spotted at 11.30pm that night on Ryeford Close which is the next street to hers.
He was then seen on Manley Field at midnight, before being sighted at Spring View at 1am and Hindley Green at 3am, before Patrick then found the ferret in his bed at 5am.
And Patrick ended up falling in love with Thomas, making a special sign with the ferret's name on for him to give to Lisa.
Relieved owner Lisa, 42, who was given Thomas by a neighbour when he was four months old and has made a cage for him and takes him for walks, said: "We'd had a takeaway and I said I'd wash up if my daughter went to take out the rubbish.
Lisa Marie Buckley reunited with her ferret, Thomas
"So Thomas must have got past her at the front door when she was doing this, as we couldn't find him anywhere or in his usual sleeping places."
Concerned mum-of-one Lisa, a childminder of 15 years, then posted numerous appeals on Lost and Found pages and her own Facebook to try and find Thomas.
It was then in the early hours of the following morning that she was contacted by Patrick, who arranged for her to come to his house to pick the ferret up.
Lisa, whose dad had ferrets when she was growing up and who has also looked after a friend's ferret in the past, said: "It was brilliant news and shows that community spirit is still alive and that people do look out for you.
"I was amazed by what had happened and I'm so thankful to Patrick for finding him and contacting us.
"We've had him since he was four months old after a neighbour across the road found him.
"We didn't know if he was wild or anything and took him to the vets and said we would try to find his owner.
"But we never did and took Thomas in as our own and got him microchipped.
"We made his own cage at the top of the stairs but he also roams around the house and we walk him on leads, while he has his own toys and we feed him dry biscuits which you can get from pet shops."
She added: "Some people might think ferrets are naughty but he is so well behaved and makes an adorable pet, and we're so pleased to have him back home."