New organisation planning events celebrating equality and diversity
Pride in Leigh will celebrate LGBTQ+ people and communities with a programme of activities designed to complement Wigan Pride.
Wednesday, 6th January 2021, 7:00 am
Updated
Wednesday, 6th January 2021, 11:24 am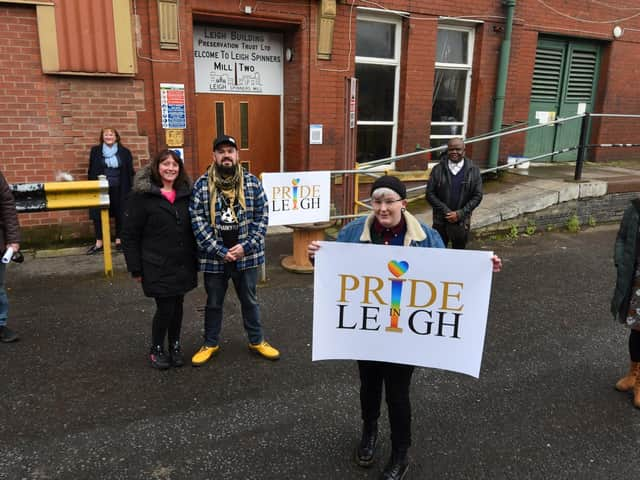 New group Pride in Leigh is being launched
The group is bringing together a number of organisations based at Leigh Spinners Mill, including Leigh Film Society, Everything Human Rights which works with ethnic minorities, Monument Men and the Hackspace.
The heritage venue's general manager Jo Platt is also part of the team.
Whereas Wigan Pride follows the established format of an outdoor carnival-type festival with entertainment and a spectacular parade, Pride in Leigh will instead offer a range of artistic, cultural and historical events which are related to the LGBTQ+ community in some way.
It also wants its programme to be part of the run-up to the Manchester Pride event each year.
Pride in Leigh chair Jess Eastoe, who was a co-founder of Wigan Pride, said: "There's always been a lack of provision for LGBTQ+ support in Leigh so what we're aiming to do is bring together all the creative and cultural people who are part of the community themselves or allies of it.
"We want to work collaboratively with Wigan Pride but we are slightly different, working more on education, arts and culture around diversity and equality.
"We have our own identity in Leigh but we are also one borough. I'm excited and really looking forward to it."
As well as putting on events around Wigan Pride Ms Eastoe hopes Pride in Leigh can mark other important dates in the LGBTQ+ calendar, including historical anniversaries, the International Day Against Homophobia, Transphobia and Biphobia (Idahobit), LGBT History Month and World Aids Day.
Plans for the first event in 2021 include Leigh Film Society screening an example of LGBTQ+ cinema and a rainbow light extravaganza at the mill by Monument Men. The volunteers hope the events will be educational and fun and want as many people as possible to get involved.
The organisations already involved have spoken of their excitement at the new venture.
Farai Nhakaniso, Everything Human Rights co-founder, said: "I am so privileged and excited to be part of Leigh Pride. We are driven by the belief that everyone should feel free to be who they are without fear or persecution.
"We invite everyone in our community to join and support our efforts to ensure that everyone is treated equally. Together we can make Leigh a safer place for all."
Paul Costello, chair of Leigh Film Society, said: "We operate on an ethos of cultural inclusivity. We're excited to be part of the foundations of Leigh Pride and making a contribution alongside so many other local organisations, bringing people together and creating a welcoming and safe environment for everyone in our community."
To find out more, follow on Twitter @PrideinLeigh or email Steven Darby at [email protected]
If you value what we do and are able to support us, a digital subscription is just £1 for your first month. Try us today by clicking here and viewing our offers.