Over-running building work makes life a misery for residents
Fed-up residents say their lives are blighted by building work near their homes which should have finished seven weeks ago.
Wednesday, 5th May 2021, 7:00 am
Signs were erected to say Westminster Drive, in Higher Folds, would be shut for eight weeks from January 18.
This was for a project on nearby Richmond Drive, where 93 houses are being built on land once home to St Gabriel's RC Primary School and a church.
But they say the work has made their lives a misery - and it has still not been completed.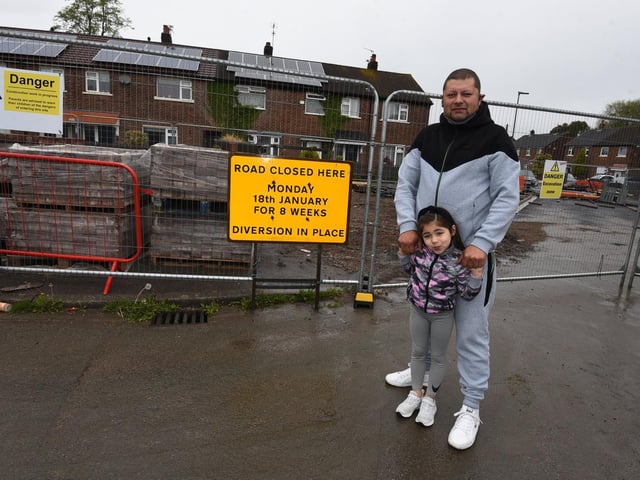 Westminster Drive residents Paulis Susters and daughter Klaudia, four
They complained of gardens being dug up, loud construction noise throughout the day, deliveries failing to arrive at their homes and refuse collectors being unable to empty their wheelie bins.
Residents have been unable to get their cars on and off their driveways, others cannot park near their homes and vehicles have been scratched.
And they say they have not been able to hang out clothes on their washing lines as they get covered in dust.
Resident Neil Howell said: "No-one can park their cars near their homes, so they are parked as and where we can, this is a pain carrying shopping in or having to walk all the way round. Cars are constantly filthy, and are getting scratched or damaged.
Neighbour Linda Critchley uses a walking aid and is frightened of falling when she leaves home due to the work.
Laura Siddeley said: "We cant peg washing out, it's a nightmare, and kids can't even play out at all. It feels like we are in lockdown still."
Paulis Susters said his wife, who has back problems, struggled to walk to their house with bags of shopping.
James Morley, a Higher Folds resident who is standing for election as a candidate for Leigh, Atherton and Tyldesley Together in Leigh East, said: "They have no idea of the disruption they are causing to residents. It was meant to last for eight weeks and they could have coped with that, but it is still going on."
He suggested Wigan Council take enforcement action against developer Keepmoat Homes, while residents called for compensation.
A spokesman for Keepmoat Homes said: "We are aware of the extended period of works affecting the residents and we do apologise for the continued disturbance and any inconvenience this may cause. The extended programme is due to the nature of the works necessitating a hand-dug excavation, which is required for health and safety precautions, rather than mechanical which was originally envisaged.
"We are pressing the programme to minimise the disturbance and are currently on course to complete the works within two weeks."
David Proctor, service manager for development management and building control at the council, said: "This development is covered by a construction environmental management plan (CEMP), which sets out how the developer can operate on site, however it does not control how long a phase of work will take to complete.
"We are liaising with the site manager to highlight the concerns that have been expressed by residents, and to assure ourselves that the works on site are complying with the CEMP."
Election candidates in Leigh East are: Trevor Barton (Independent), Keith Cunliffe (Labour), James Geddes (Conservatives), James Morley (Leigh, Atherton and Tyldesley Together) and Lewis Parkin (Liberal Democrats).
​Thanks for reading. If you value what we do and are able to support us, a digital subscription is just £1 for your first month. Try us today by clicking here