Queen's award success for volunteer groups
Two groups of volunteers have each received the Queen's Award for Voluntary Service.
By Ben Butler
Published 6th Nov 2020, 13:46 BST- 2 min read
Updated 6th Nov 2020, 13:50 BST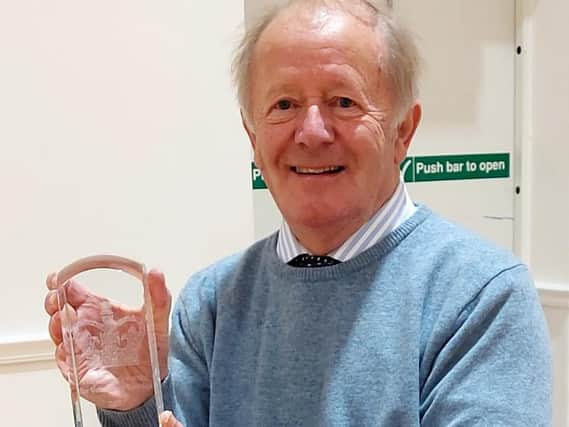 The award, the MBE for volunteer groups, has been given to Parbold Douglas Music Lancashire and Parbold Picture House.
It is in recognition of the outstanding work done by their volunteers in the community.
The awards are normally presented at a ceremony presided over by The Rt Hon the Lord Shuttleworth KG, KCVO, Lord Lieutenant of Lancashire.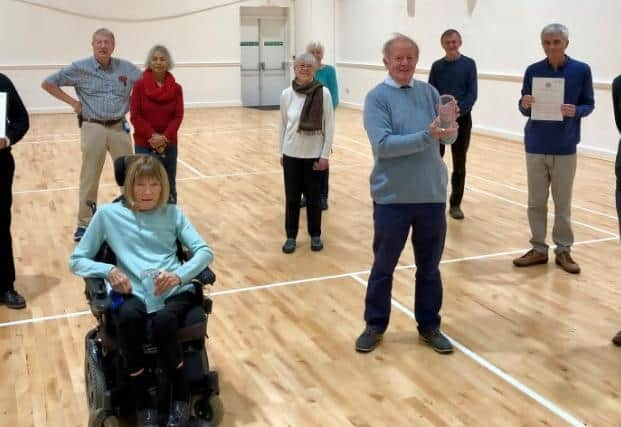 However due to Covid-19 restrictions, the Lord-Lieutenant decided that it was inappropriate for him to make a formal presentation of the awards.
Instead, Ian Grant, a Deputy Lieutenant, delivered the awards in an informal meeting last Tuesday (October 27) in the empty Auditorium of Parbold Village Hall.
He had brought the signed citations from HM Queen, letters from the Lord Lieutenant, Lord Shuttleworth and the two glass sculptures that commemorate the awards.
Parbold Douglas Music Lancashire presents and manages an annual concert series starring international musicians, while the 21 volunteers of Parbold Picture House, a community cinema, present fortnightly film evenings in the auditorium of Parbold Village Hall, as well as live transmissions.
Both are currently suspended due to the restrictions. Clare Gillard, recorder for Parbold Picture House and Treasurer of Parbold Douglas Music and Michael Bonsall, chairman of Parbold Douglas Music and Convener of the Picture House Film Crew, said: "We are very proud of our volunteers and the marvellous positive spirit and commitment with which they work, solve problems and coordinate their efforts.
"We think it is highly extraordinary for two awards to be made independently to groups working in the same venue.
"We have known for some time that our volunteers are exceptional people, from all walks of life, from sixth former to octogenarian, some working, some retired, who love music or film and sharing their enthusiasm with others.
"Volunteers are always welcome and immediately feel at home in the comradeship that has been built up. The audiences are very appreciative of the positive contribution our volunteers make to their lives."
Sue Halton, treasurer and acting chairman of Parbold Community Association: "The Parbold Community Association are very proud to acknowledge the wonderful achievement of our Parbold Picture House volunteers.
"Their dedication has given many people from our community and the region a chance to see films and National Theatre Productions on their doorstep. The award is thoroughly deserved.
"Our congratulations also go to the volunteers of Parbold Douglas Music who have also been recognised for their work within the community."