Suspicion growing over fate of Wigan village Christmas tree
However, the community in New Springs will enjoy some festive cheer despite the dispiriting news their tree has probably been deliberately attacked.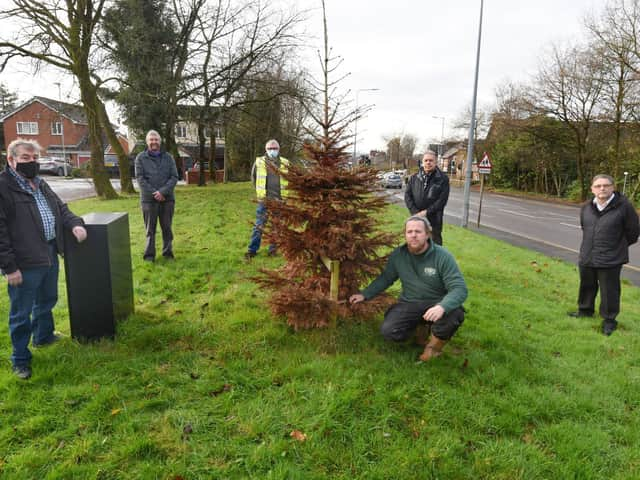 Councillors for Aspull New Springs and Whelley ward had been baffled by the fact the trees planted opposite The Crown Hotel over the past few years have kept dying.
After the latest tree gave up the ghost an inspection of the area, which is used for an annual community get-together for carols round the tree, revealed that depressingly someone has probably been killing the trees.
Andrew Rouse, of Rouse Landscaping, said he could not find any natural reasons which would explain why trees planted in New Springs have died.
It was therefore likely that some kind of foul play, such as diesel being poured into the pipe to keep it watered, was responsible.
Despite this rather dismaying setback, the ward councillors are now working with Mr Rouse and Wigan Council to ensure there is festive cheer in New Springs, with a cut tree being sourced and lights being found to decorate it.
Coun Chris Ready said: "We've got three trees in the ward and the other two are flourishing but we've now had three in opposite The Crown Hotel.
"The first one was vandalised and then disappeared and the second one died. The guy who did it for us said he would put a pipe in for this latest one to ensure good irrigation, but it's in a bad state as well.
"We can only assume that this has been done deliberately and that is quite annoying. We just want to light the tree up for some Christmas spirit with all the bad things going on in society.
"It just wasn't what we were expecting that someone might have poured diesel into the pipe and it's very disappointing.
"A group of us put in a lot of hard work as a community forum and last year we had an excellent carol service with all the people from the nursing home coming out to enjoy it.
"We're now pulling out all the stops to make sure the people of New Springs will have lights and a tree."
Wigan Council has said it will do its bit to ensure there is some Christmas cheer spread in the community after the apparent vandalism against the festive efforts.
Andrew Rouse of Rouse Landscaping, who checked out the dead tree and the area around it, said: "It seems very suspicious to me. You would see signs if there were problems such as drainage issues, but it's just stone dead.
"That has led me to believe somebody's killed it. I can't say exactly what has happened but it's quite common for people to use diesel.
"It's a shame because it's a Christmas tree. It's about trying to do something for the community. This is the area where I was brought up so I want it to look nice too."
Thanks for reading. If you value what we do and are able to support us, a digital subscription is just £1 for your first month. Try us today by clicking here and viewing our offers ..