Trespassing at Wigan derelict mill sparks plea to stay away
A number of people gained access to the Pagefield site near Mesnes Park while demolition work was taking place.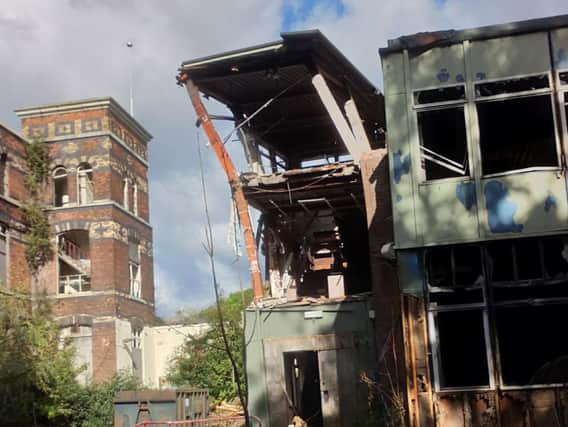 Local reports suggest youths got into the site and then began throwing objects into the gardens of nearby residents.
The incident happened at around 4pm last Thursday.
The site, which has become severely damaged, has been plagued with anti-social behaviour for some time.
Coun George Davies, who represents Wigan Central, said he and those living close to Pagefield were delighted that demolition work is under way.
He said there had not been problems with trespassing in recent times until this week and once more begged anyone tempted to get into the dangerous site to think again.
Coun Davies said: "We've not had any trouble since lockdown but then suddenly people were back again this week.
"They were throwing missiles into gardens and they hit one of the windows.
"We are delighted that the buildings are being demolished at long last.
"We're urging people to keep away from the site and put the safety of themselves, our residents and our emergency services first.
"Anyone who goes into that building is in danger."
A closure order which makes it a criminal offence to trespass at Pagefield Mill initially ran until this Thursday, but has been extended for three months.
The council said there had been a reduction in reports of anti-social behaviour since the order was put in place and six young people have been dealt with through restorative justice.
Coun Davies called for security to be deployed at the site after the demolition workers had finished for the day to prevent people gaining access to it.
Greater Manchester Police (GMP) is now involved and investigating the incident on Thursday.
The force confirmed that it received a report of anti-social behaviour on land off Kenyon Road at around 4.15pm on October 1.
Officers are now looking into the matter and anyone with information can call the police on 101 or ring independent charity Crimestoppers, anonymously, on 0800 555 111.