Volunteers continue delivering food and books to Wigan residents during pandemic
A community group set up just before the coronavirus pandemic proved to be a lifeline for hundreds of people in the borough.
Tuesday, 30th March 2021, 7:00 am
Members of Hindley and Hindley Green Community Action Group were preparing for their inaugural meeting in March last year, but it was cancelled due to the outbreak.
So the group decided to focus on how it could make an immediate difference in the community.
It launched a shopping service, where people who were isolating or shielding could provide a list of items and the money for volunteers to go to a supermarket for them.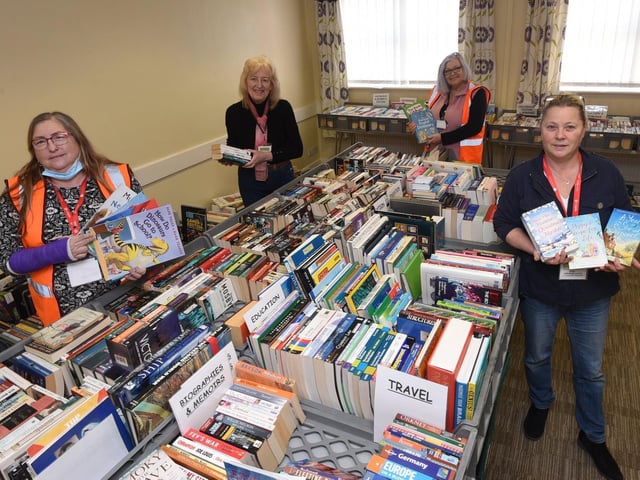 Christine Lawler, Hilda Byrne, Pat Hockenhull and Deborah Lloyd, members of Hindley and Hindley Green Community Action Group
At its peak, a team of 15 volunteers were shopping for 100 households across the area. Aldi in Hindley Green supported the project by giving shoppers priority access, rather than having to queue outside.
Chairman Christine Lawler, who set up the group with secretary Deborah Lloyd, said: "We were extremely busy because there wasn't the same access to online shopping for some people. They couldn't get the slots, so we were doing shopping for them. A lot of people were on their own or it was couples, mostly in the older age group. Some people had Covid and had to isolate."
For some people staying at home, the arrival of the volunteer with their shopping provided a friendly face and the chance to have a chat.
Secretary Deborah Lloyd with some of the books
The group has also made other gestures to support residents, including distributing Christmas crackers, sweets at Valentine's Day and treats for Mother's Day.
It helped by providing emergency shopping for people in crisis, buying two microwaves, and handing out a washing machine and kettle that had been donated.
Volunteers also did support calls for people who were struggling and needed someone to talk to.
The shopping service made a big difference and the group has pledged to continue it, even as the number of people still needing help drops.
Christine (pictured right) said: "I am very proud of what we have done. I am so proud of the volunteers and we gave awards to them before Christmas. They deserve some recognition and that's what they got.
"The customers have been so thankful. It's unbelievable. The customers even said the volunteers are not just helping with their shopping, they have become friends."
The success of the shopping service led to the group setting up a community book club, to give people something to do while at home during lockdown.
Photographs of the items available are posted on a Facebook group, for people to request which ones they would like delivered to their home.
Christine described the project as a "phenomenal success", with 600 members so far and thousands of books donated.
She said: "We have a room in Tudor House in Hindley because they weren't using it at the time, so that's been our base since then.
"At one point I think we had 5,500 books. We are now at 3,500 to 4,000 books, as well as DVDs for children and adults. We have virtually anything you can think of. We have education books, history and a lot of fiction. The most popular are crime fiction and women's fiction. We have children's books from pre-school right up to teens."
As well as delivering books to residents' homes, they have been provided to care homes and schools in the area.
All the items are quarantined and cleaned before being distributed to help prevent the spread of coronavirus.
The community library has provided a real boost for many people staying indoors.
Christine said: "It's given them something else to focus on. With a lot of children home-schooling, we have had a lot wanting children's books to help with that.
"It has been really, really busy and still is. How it will go as the libraries reopen. I don't know at this stage, but at the moment it is as popular as ever."
While the volunteers are committed to continuing the library and shopping service, they are also looking to the future.
There are plans to restart an over-60s friendship later in the year, look at other groups for gardening and crafts, and address crime prevention and youth services.
Also in the pipeline is work with Hindley Green In Bloom and a litter pick with Keep Britain Tidy.
Christine said: "We have lots of plans but we are not going to stop what we are doing. While other services, like some food banks and parcels, stopped in the summer when we were released from lockdown, we never stopped because our customers were not comfortable going out. They were frightened of going to the shops because they were concerned about contact with people."
Search for Hindley and Hindley Green Community Action Group on Facebook to find out more or access its services.
Thanks for reading. If you value what we do and are able to support us, a digital subscription is just £1 for your first month. Try us today by clicking here