Wigan gardener pays tribute to NHS fundraising 'superhero' Captain Sir Tom Moore
A gardener is raising money for the NHS by auctioning a hand-made action figure of Captain Sir Tom Moore on eBay.
Published 2nd Mar 2021, 15:45 GMT

- 2 min read
Updated 2nd Mar 2021, 16:11 GMT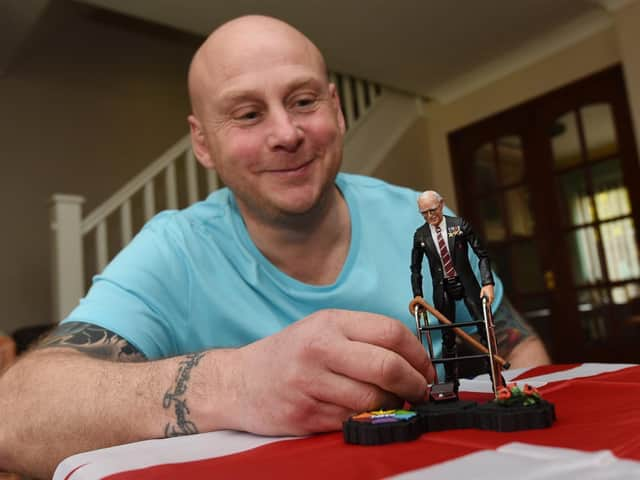 Neil Westergren, from Ince, has been working in garden maintenance for 25 years and for the last decade, he's been creating custom Marvel and DC superhero action figures as a hobby.
The 45-year-old chose to create Captain Tom as an action figure to pay tribute to the war veteran who stole the nation's heart for his remarkable efforts in raising money for the NHS.
The dad-of-two and founder of Neil Westergren Professional Gardens, said: "With the passing of Captain Sir Tom Moore I was inspired to make a figure of him being a real life superhero.
"He is an inspirational person and I've been following the stories about him in the media, so the idea just came to me."
Neil put his one of a kind sculpture on eBay as a charity auction so all the donations raised will go directly to the NHS.
He said: "I put it on to start with at 1p just a few days ago and it's already more than £300 which is amazing.
"I'm shocked at how much money it's made, I thought it would only make £20."
As a child, Neil went to comic shops in Manchester and started collecting action figures but he only started collecting them again around 13 years ago.
He said: "I started painting figures to see if I could have a go myself. I make the characters that aren't made to fill in the gaps of my collection.
"A lot of people offer me commissions but when I do it I feel a bit under pressure and I don't really enjoy it as much. I would rather just make them for myself."
When making the miniature superheroes, Neil said he combines multiple action figures to put the base together, including the body, head, and accessories.
He then sculpts anything that needs sculpting on top of the base figure, before priming and painting with acrylic paints.
Depending on how much detail each character has, it can take him days or even weeks to complete one figure, but the response to his Captain Tom tribute has been worth it.
Neil said: "This has encouraged me to do more in the future. It's made me think about spotting role models who are doing things for great causes in the media.
"It makes me feel proud to have done something that is productive and can help others."
You can visit the auction on eBay here and follow Neil on Instagram, @muddys_customs, to see more of his work.
Thanks for reading. If you value what we do and are able to support us, a digital subscription is just £1 for your first month. Try us today by clicking here and viewing our offers.