Wigan man criticises lack of thought for disabled people on lockdown exercise
Shaun Fallows said the current total closure of gyms has left disabled people completely unable to exercise.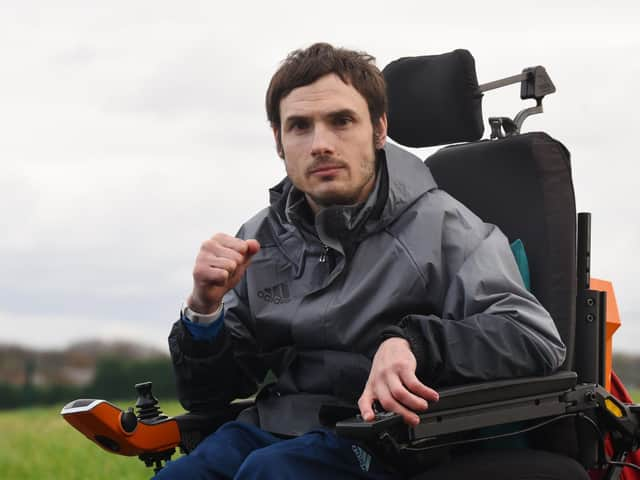 Worsley Hall resident Mr Fallows, who has cerebral palsy, worked out at Robin Park six days a week prior to the beginning of the ongoing national shutdown.
Currently gyms are completely unable to open, though there are some exemptions for providing exercise facilities for children and they will be allowed to open their doors once lockdown ends.
However, Mr Fallows says that while the Government is encouraging people to do regular outdoor exercise activities such as running, jogging or cycling are totally impossible for many of those who have disabilities.
He believes arrangements should have been made for those who have no other option when it comes to keeping fit to return to their local gym to work out.
Mr Fallows, 37, said: "I find it frustrating how disabled people haven't been considered in this pandemic. I've only just recently heard what we can do for exercise mentioned.
"When my gym was closing down my able-bodied friends were saying they would get their bike out or go running, and I was just left thinking about what I was going to do.
"I use a special machine at the gym which I can use my arms to pedal, but there's absolutely nothing else I can do. It's impossible for me to go for a jog or a cycle.
"I was disappointed the Government didn't look at giving disabled people a special pass so we could come into the gym at certain times while able-bodied people who can manage exercise outside did that. That would have kept the numbers down until we could all mix again.
"It's frustrating they don't see that this is an essential service for disabled people."
Mr Fallows has been raising awareness of the issue on social media and says he was heartened by some of the comments on re-opening gyms made by Greater Manchester Mayor Andy Burnham.
He spoke of the effect working out and building up his fitness has on living with his disability and his concern that people with serious conditions are currently living sedentary lives in lockdown and unable to do any physical activity.
He said: "I've built up my strength so I don't feel too bad but since the gyms have shut my body has felt really tired and I've had a lot more aches and pains. I'm feeling my disability a lot more.
"I'm really worried about people who are already feeling awful or are physically worse off than me. If this goes on for months and months into lockdowns three, four or five I could end up really unfit and unable to breathe, and I will see my life disappear. I don't know how it will be for everyone else."
Mr Fallows said he believes it will be possible for gyms to open safely for disabled people to exercise, saying he did not feel at risk of catching Covid-19 when exercising in between the two lockdowns due to the precautions taken.
Thanks for reading. If you value what we do and are able to support us, a digital subscription is just £1 for your first month. Try us today by clicking here and viewing our offers ..