Wigan market stall holder gets debut book published
Kathleen Leigh, who writes under the pen name Kathleen Clunan, has hit the shelves with her novel The Evolution of Christie Harris.
Published 2nd Jun 2020, 12:30 BST

- 3 min read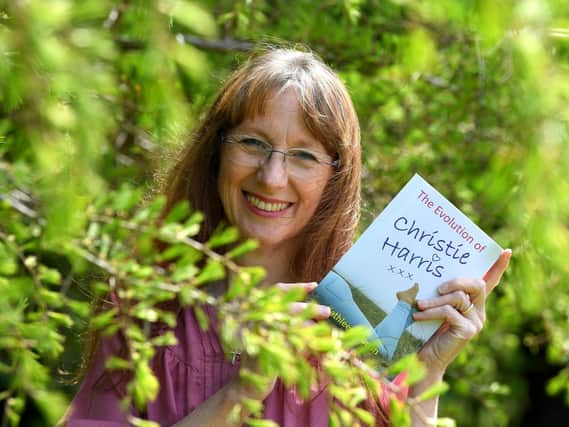 The book tells the tale of a young woman who is settled in her work as an art teacher and has a group of friends but finds her life turned upside down when it is revealed her biological mother is actually a famous actress who wants to be part of her life.
The creation of the book is a remarkable tale as Kathleen worked on it during two long spells of illness when she could not go to her job on the family business Clunan's Market Stall.
And now, with the help and encouragement of Tarleton Creative Writing Group, the book is out for readers to buy.
Kathleen, 56, said: "When I was very poorly writing and using my imagination became the thing I could do.
"I would sit at my laptop and work when I was well enough.
"I joined the writers' group and they gave me a lot of encouragement.
"The book is about how Christie's personality evolves.
"It has been described as Bridget Jones' Diary meets Long Lost Families.
"She's well established with a job and friends but then this famous woman says she wants her back and she has to negotiate this as her life cascades into chaos.
"It's about relationships really. There's a lot of typical chick-lit things in there: romance, comedy, friendships, families."
Kathleen has worked on the Clunan's stall, which sells cooked meats, pies and other similar food items, in Wigan for years and the business is now a real family affair, with her husband Jeremy, sister Danii, son Joe and daughter Lydia all involved.
Kathleen began writing her book while suffering with rheumatoid arthritis and was then off work again after being diagnosed with an auto-immune disease.
She discovered her love of literature at high school, having initially found reading hard, and says it is the page-turning quality of a book and the ability to get engrossed in a good tale that she enjoys most.
She is already working on another book and says she hopes people currently chafing against the lockdown due to Covid-19 can take inspiration from how she found an outlet in writing at a time in her life when her health meant she could not do much.
She said: "I always thought I could write but I used to really struggle and was a very poor reader.
"At high school my English teacher gave me books which i found very interesting and that was when I got the reading bug.
"The writing bug came afterwards.
"I love the escapism of a book and not being able to put it down.
"I've had some really nice reviews for my writing already.
"One person read the book in two days and then asked when the next one would be out.
"This pandemic is really affecting people badly, but they could look at it as an opportunity. That's how I looked at being ill.
"You've got to look at what you can do and make the most even of pretty rubbish situations.
"It looks awful at first, but you need to embrace the trauma and come out of it stronger, otherwise it just diminishes you."
Kathleen is currently getting a website developed and is hoping to do a book signing in Wigan once it is safe to do so.
The Evolution of Christie Harris, by Kathleen Clunan, is out now and available from leading online bookstores.