Wigan residents urged to honour fallen on Remembrance Sunday
This year's commemorations are different to normal because of the Covid-19 pandemic.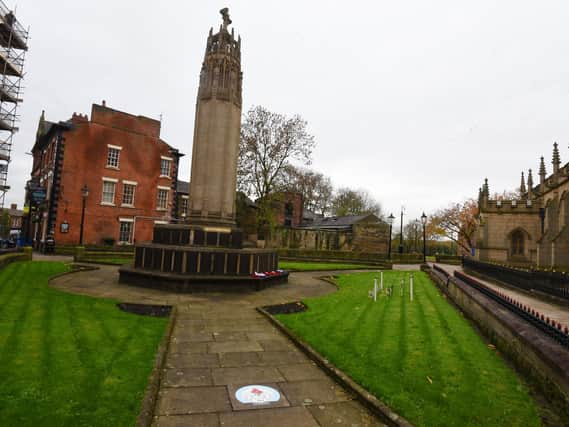 Residents are being encouraged to holding a two-minute silence on their doorsteps at 11am on Sunday to remember those who have died serving their country.
War memorials across the borough are being lit up, services from the parish churches are being streamed online and poppies are being installed at 15 locations near sites of remembrance and the Armed Forces hub.
John Harker, Wigan Council's strategic manager for armed forces and veterans, said: "There are thousands of veterans in Wigan and Remembrance Day is really big here with everyone coming together, so a lot of people are disappointed we can't pay our normal respects.
"People are pulling out all the stops to ensure we do remember and don't let the day just go by. That's really important.
"We are doing things in different ways and I think lighting up the memorials is really poignant."
Coun Clive Morgan, Wigan Council's lead member for armed forces and veterans, said: "Every year the borough makes sure to pay respects to all our armed forces who have made sacrifices for us and that is no different this year.
"It's unfortunate that it can't be done in the same way as previous years but we need to keep people safe and that's why residents are encouraged to hold a two-minute silence on their doorsteps while also displaying an image of a poppy in their windows."
"The council is marking the special day by streaming private services on social media, lighting up cenotaphs and installing poppy emblems on roads.
"We owe so much to so many so, as always, it's fitting and right that the borough will be paying their respects on Remembrance Sunday."
The mayor and deputy mayor will be laying wreaths at the memorials in Wigan and Leigh on Sunday and residents who also wish to pay tribute are asked to turn up throughout the day.
Poppy signs will help to ensure that all those honouring soldiers who have died observe social distancing.